News
Revisiting Kathmandu workshop to conserve, develop monument zones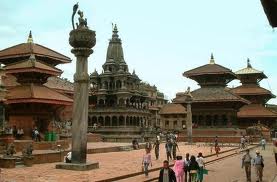 KATHMANDU, Nepal – An international meeting on the theme "Revisiting Kathmandu" is being organized in Kathmandu to conserve and maintain the monument zones included in the UNESCO world heritage list.
Organizers say, the symposium aimed at plans on maintaining the heritage sites so that modern development of these areas continues along with their conservation.
The five day-long international symposium started from Monday is being organized in joint initiatives of the UNESCO office in Kathmandu and the Nepal chapter of the International Council on Monuments and Sites (ICOMOS), with the support of Kathmandu Metropolitan City (KMC), the Pashupati Area Development Trust (PADT) and the Department of Archeology (DoA).
According to the organizers, they have planned and organizing the symposium in the four monument zones of Kathmandu Valley.
While an event has been organized at Patan Durbar Square on November 26, the programme is scheduled at Pashupati on the 27th, Bhaktapur on the 28th and Hanuman Dhoka on the 29th.
45 experts and 110 representatives from 22 countries have been gathered to discuss conservation of the historic sites without losing their intrinsic character and value.
Every day of the symposium will be devoted to a specific theme, namely authenticity, community, management and disaster risk management, and there will be site visits and poster presentations in the evenings, organizers say.
"The new concept of heritage covers more than just monuments. It includes complex urban spaces where people live, work, worship and celebrate festivals. As values and aspirations of society change, the approach to urban conservation must adapt and respond to this change", said Axel Plathe, UNESCO representative to Nepal, in a press release issued from the UNESCO office here.
To date, Nepal has 10 heritage sites enlisted in the World Heritage Site list out of which eight are cultural and two natural. Two natural sites include -Sagarmatha National Park and Chitwan National Park. Out of eight remaining, four are religious sites that include -Pashupatinath, Changu Narayan, Swayambhunath Stupa, Boudhanath Stupa and Lumbini, while three durbar areas include Kathmandu, Bhaktapur and Patan Durbar Square.
Among the ten such sites seven lies within the capital valley that include the Durbar Squares of Hanuman Dhoka (Kathmandu), Patan and Bhaktapur, the Buddhist stupas of Swayambhu and Bauddhanath, and the Hindu temples of Pashupatinath and Changu Narayan.
More than 15 other ancient, natural and cultural sites are in the tentative list of the UNESCO for their incorporation in the World Heritage Site List. And the government is planning to include at least two among them in the list for now.
There are 125 different groups and ethnic communities with some 120 languages across the country, according to the Ministry of Culture, Tourism and Civil Aviation. They have their own unique tradition and culture, including living intangible cultures.
However, culture experts are worried on the sorry state of heritage sites and cultures in the country due to rapid urbanization, modern lifestyle and apathy of the concerned towards the preservation of culture.