News
WWF Nepal awarded grant to double tiger population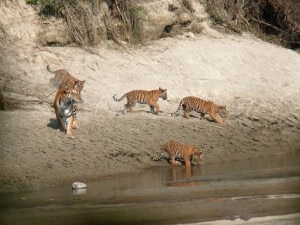 KATHMANDU, Nepal- the Leonardo DiCaprio Foundation has awarded a grant to World Wildlife Fund (WWF) Nepal in its aim to help Nepal double its tiger numbers by 2022.
WWF hoped the grant will support in it cooperation with the Government of Nepal and local communities in five protected zones of Nepal's Terai Arc landscape to boost anti-poaching patrols up and conserve core areas for tiger breeding.
Likewise, the grant will strengthen in fixing critical corridors for the tigers' dispersion and continue monitoring this beautiful creature  which are facing threat due to poaching in the recent days despite of the government's attempt to combat round the clock against illegal traders.
'Time is running out for the remaining 3,200 tigers across the world, largely due to destruction of its habitat and swelling illegal poaching,' said an official at WWF in Nepal adding WWF, the Government of Nepal and local communities are on the front lines of the battle in their goal of doubling the number of these wild beast in the world.
Nepal is in an endeavor to become one of the first tiger range countries to attain the 2010 Global Tiger Summit's goal of doubling this wild beast by the end of 2022.
Tigers, leopards, elephants and rhinos in the southern belt of Nepal are gradually losing its habitat and in the verge of collapse due to increasing illegal trade and poaching.
The grant will allow park rangers to apply modern supervising tools apart from intelligence-gathering and creating awareness to local community to tackle poaching, according to wild life officials.
The wildlife experts suggest that the park infrastructure, such as guard posts, should be spread out and corridors between parks must be beefed up  so that the beasts will roam in a freedom manner across the terai region.
Nepal has been continuously garnering the supports whether it is technical or financial aid from the international communities to preserve the wild beast in Nepal.
'Nepal's successful tiger conservation program is the consequence of the unspoiled efforts and commitment of the Government of Nepal, its conservation partners including WWF, and the local communities," stated Mr. Anil Manandhar, Country Representative of WWF Nepal.
WWF has also made clear that the grant will help local communities benefit from conservation by creating income-generating activities through tourism, handicrafts and organic vegetable production. The grant will also support insurance funds to help families cope with the loss of livestock to predators.