News
NTB, HRA runs shuttle bus service for tourists in bandh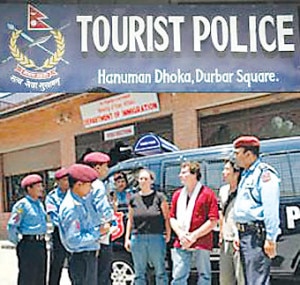 KATHMANDU, Nepal – In order to provide the hassle free movement of tourists during general strike, Nepal Tourism Board and Himalayan Rescue Association have arranged shuttle bus service on Monday.
The tourism organizations have arranged the shuttle bus service under the banner of Tourism Crisis Cell with the coordination of Tourist Police.
According to the NTB, the bus service will facilitate the national and international air passengers from airport to various hotels and vice versa on November 11, 2013 due to the strike called by 33-party alliance led by Baidya-led CPN-Maoist party.
The alliance has called for nationwide general strike on Monday and chhakajam (vehicular strike) from Nov 12 to Nov 20.
Passengers can contact directly to the concerned Tourist Police or to vehicle provider for the bus service, the NTB said.
According to the NTB, buses have started running from early Monday morning.
"If you need micro bus for your group, you can contact the service provider, it will provide you the micro bus with police escort," the NTB said, adding that the shuttle bus will operate in following different routes as follows.
Route 1
Airport -NAC -Newroad -Hotel Annapurna -Hotel Yak & Yeti-Thamel Chowk -Lainchour Chowk- Hotel Shanker Hotel- Ambassador -Airport
Route 2
Airport –Gausala-Shifal- Bhagawatibahal-Durbar Marg- Hotel Radisson -Hotel Shangrila -Narayan Gopal Chowk -Maharajganj Chowk -Hyatt Regency -Chabahil Chowk -Hotel Dwarika- Airport
Route 3
Airport- Tinkune Chowk -Hotel Everest- Maitighar Chowk- Hotel Himalaya – St. Xavier's School-Hotel Soaltee- Hotel Grand – Airport
Tourist Police: Hot Line Number: 4247041, 01 6213591
Vehicle Service Provider: Nepal Tourist Vehicle Association
1. Mr. Raj Bdr. Ojha
Mobile No. 9849561572
Ph.No. 977-01-4418081
2. Mr. Mahesh Karki
Mobile No. 9849421333
Ph.No. 977-01-4418081
Tourism Crisis Cell: Tele: 01-4442555 Mobile no: 9751044088