News
Etihad increases flights to Kathmandu, may ease ticket crunch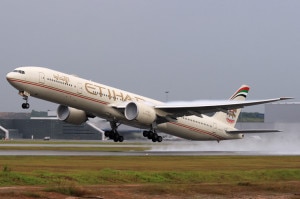 KATHMANDU, Nepal- At the time when air passengers find it hard to fly to Nepal, Etihad, the prominent Gulf state carrier has announced increment in its scheduled flights to the country.
Etihad Airways is doubling its flights frequency from Abu Dhabi to Kathmandu from November, said the national airline of the United Arab Emirates (UAE), adding that it would operate flights 14 flights a week to Kathmandu from November 1.
With the wake of tourist season and the months of festivals in the country all most all the international airlines operating flights from various destinations are booked with cent percent for the months of October and November.
Dashain and Tihar, the most important festivals of all Nepalis falls in the month of October with many Nepalis gone abroad for work return home to celebrate the festival.
According to travel agencies, almost every flight into Kathmandu is 96 percent booked for October while 85 percent of the seats have been booked for November. They said that air ticket reservations from Sept 20-30 have crossed 90 percent on average at almost all the international carriers.
The autumn-September to November-is the peak tourist season which offers highly pleasant weather for trekking and mountain views. Nepal sees almost 40 percent of the total tourist arrivals during the autumn season.
"The additional flights driven by the demand from business and leisure travellers will strengthen the ties between Nepal and the UAE further," the airline said in a press statement. According to the airline, the new services will be operated by A320 aircraft fitted with 16 Pearl business class seats and 120 economy class seats.
"The addition of the new flights will further strengthen commercial and cultural ties between Nepal and the UAE and will lead to continued strong growth in traffic flows between Kathmandu, Abu Dhabi and beyond to many key destinations across our global network," Kevin Knight, Etihad Airways´ chief strategy and planning officer, said in the statement. According to the statement, Etihad has flown more than 620,000 passengers since started flights to Kathmandu in 2007.