News
Adventure tourism gaining momentum in Nepal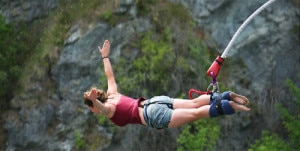 KATHMANDU, Nepal- Mountaineering, trekking, paragliding and bungee jumping are some of the adventure fields in which Nepal sees high numbers of foreign admirers these days. According to the government statistics, most of the youths visiting Nepal are in a mood to taste the adventure here. The growing numbers of youths arriving in Nepal and their flow in the agencies providing such facilities have proved the statement of government.
"Earlier tourists mean the foreigners who used to visit Durbar Squares, ancient palaces and satisfied on sight scenes," Madhusudan Pyakurel, who runs a trekking agency said, adding, "But along with the commercialization of tourism the tourism sectors have also offered wide variety of adventure fields while the tourists also want to experience that".
Along with commercialization of tourism, the country offers an abundance of outdoor activities and adventure tourism products like paragliding, bungee jumping, jungle safari, rafting, kayaking, canoeing hill climbing among others, he said.
Experts said that trekking and mountaineering are the two major adventure tourism products of the country, which have been attracting a quality number of tourists from all over the world.
Government statistics state that in 2012 there was an increment of about 21.7 per cent in total tourist arrivals for adventure tourism that is trekking and mountaineering. In 2011, a total of 86,260 tourists visited the country for trekking and mountaineering and the number jumped to 105,015 in 2012.
The Tourism Statistics 2012 shows that the number of youths who are in the 16-30 year age group are the ones visiting the country mainly for adventure tourism and the figure is increasing every year.
Of the total, tourist arrivals of age group 16-30 have increased by 22.6 per cent. Total tourist arrivals in 2012 was at around 803,092.
According to the statistics of Ministry of Culture, Tourism and Civil Aviation, in 2012, the United Kingdom, Germany, France, US, Australia, Japan, Russia, India, Canada and China were the top 10 countries from where Nepal received a maximum number of tourists for trekking and mountaineering.