News
Indo-Nepal joint Everest expedition team garners 4,010 kg garbage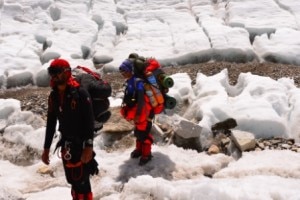 KATHMANDU, Nepal-The Nepal-India joint Everest expedition team has garnered 4,010 kilograms of waste from the Mt. Everest. Thanks to the team for its concern toward the swelling pollution that has loomed the Everest for the past few years.
In a bid to spread the message to keep the Everest clean, the team gathered the waste from the south col of the peak on Monday, informed Nepal Army´s Directorate of Public Relations (DPR) in Kathmandu.
The team comprising of army personnel from Nepal-India Everest Expedition and Sanitation Campaign 2013, collected bottles, cylinder, tin, and other solid waste cast away by the mountaineers during the course of climbing Everest.
The team had handed over the waste to Sagarmatha Pollution Control (SPC) and planning to spend more days at the camp to collect 2000 kg more waste.
The first team of the Nepal-India Everest Expedition and Sanitation Campaign had successfully atop the peak on Sunday while second team conquered on Monday. The 34 members mountaineering expedition team from two countries has been living at the Base Camp since one and half month as a part of marking the Diamond Jubilee of Everest. Major Sunil Singh Rathor of Nepal Army and Major Ranabir Singh Jamwal of the Indian Army are heading the team from the two armies.
Meanwhile, the collected waste would be disposed off without harming Everest environment, informed DPR.
The Everest wears a deserted look due to the mounting pollution caused by solid materials like: tin, bottles, cylinders, and lead used by the climbers. Mountain experts and foreign mountaineers have showed their great concern towards the heap of garbage scattered around the Everest.