News
Crowd of Mountaineers at Base Camp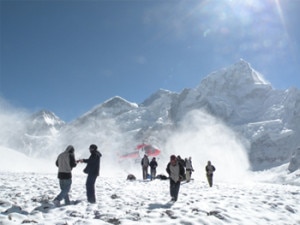 KATHMANDU, Nepal-A Crowd of mountaineers and their aids from Nepal and foreigners has gathered at the Base Camp of the Mt. Everest in their bids to hold new record this season. The number are comparatively massive than previous year.
With the activities of climbers around the camp searching their friends, the base camp of the Mt. Everest has been seemed like a 'mini market' drawing the attention of the world in the latest day.  Moreover, the heavy presence of climbing guides and their packing bags have added extra thrill to the snowy environment.
The base camp is now packed with colored tent erected by expedition team. According to Peak Promotion Treks and Expedition, Angfula Sherpa, there is no extra space for erecting the tent if any new expedition team arrives at base Camp.
Since all the Nepali and foreign climbers who are attempting Lhotse, Nuptse and Mt. Everest of Solukhumbu are using the same base camp; the crowd of the climbers at the base camp is immense. Now, a total of fifty expedition teams have erected the camp to climb three peaks. Among them thirty one expedition team are scaling the Everest
The numbers of the American climbers to scale the peaks exceeded the rest of the countries. The environment of the base camp is thrilling due to the activities of the climbers and their guides. According to Base Camp manager of Everest Pollution Control Committee chair man Ang Tshering Sherpa, the route for climbing the peaks was already carved and the climbers would commence their expedition. Tshering said the time has been managed for the climbers on the basis of their turn to scale the peaks. Carving the route towards fourth camp, located at the height of eight thousand meter of the Everest was delayed due to snow.
Sagarmatha Pollution Control Committee (SPCC) carved the route to camp two from the base camp of Everest while the route above the camp two was constructed on the coordination of trekking company.
The climbers, who are going to begin their expedition on 12 May, should accomplish their journey within 30 May, Everest Base Camp liaison officer at the Ministry of Culture Tourism and Civil Aviation Gyanendra Shrestha said.
Though the mountains are open for two times in a year, climbers opt for spring season.