News
(English) Immediately initiate scientific study at landslides: ICIMOD asks govt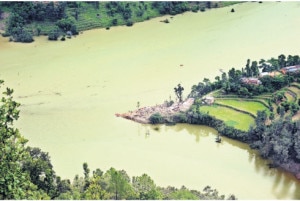 KATHMANDU, Nepal–The International Centre for Integrated Mountain Development (ICIMOD) recommended the concerned government authorities to carry out a range of scientific studies at the site of massive landslides in Jure of Sindhupalchok district immediately.
At least 156 people were declared dead due to the flood that took place at Jure VDC of the district, two weeks ago.
An ICIMOD team comprising of two experts had visited the site soon after the disaster for a 'rapid investigation'.
Launching the report on Sunday, ICIMOD suggested the authorities to immediately carry out a bathymetric survey of the artificial lake created after the landslides to calculate the volume of water stored and a geophysical survey of the dam to assess steadiness.
Likewise, it also recommended for a hydrological modelling and inundation mapping to figure out areas vulnerable to flood.
Monitoring of hill slope movement and the landslide scar is also a must to measure the stability of the landslide and potential for dam formation in the future.
The organisation also requested for awareness raising programmes among local people in areas downriver.
ICIMOD suggested the government to carry out landslide hazard mapping and identify potential areas of landslide dams as long term actions in order to prevent further disasters in future.
Locals under threats since 2007
Earlier in interviews with its team, ICIMOD stated that initial signs of this particular landslip were spotted  in 2007.
In 2011, local people became more aware of the risk of a large landslide as the landslip grew larger and larger, according to the report.
Cholera alert issued
In the meantime, with Nepalese authorities attempting to reach thousands of people stranded by flooding that has already swallowed  one hundred more people and left more than 150 missing, the government issued an alert against a possible cholera outbreak in flood hit zones.
The death toll has crossed 100 over the past four days of floods and landslides triggered by incessant rainfall mainly in some 10 districts in western Nepal, according to the Ministry of Home Affairs.
More than 22,000 people displaced by flood have been emptied from districts with the help of security agencies.
Today Nagarik daily quoting Jhamka Nath Dhakal of Nepal´s National Emergency Operation Center as saying reported that four choppers with food, emergency supplies, medicine and medical workers were sent to villages in the western region hit by the flood.
Thousands of people have been left with lurch and cut off from the eastern region since four days. The monsoon season that started two weeks late this year has been active since the last week of August.