News
(English) Greenery to get boost in cities, villages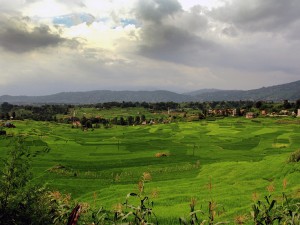 KATHMANDU, Nepal– Schemes to boost up the quality of local environment by increasing green cover has begun nationwide. The government came up with significant schemes giving top priority to environment in its annual policies and programmes that was announced a week ago.
The government plans to conserve precious bio diversity to mitigate the negative impact of the climate change.
Himalayan nation witnessed deforestation and forest degradation at such an alarming rate in the last few years that motivated the government to come up with such concrete plans.
Likewise, other plans include promoting private forestry schemes, massive tree plantation on open spaces and farmlands in villages, towns and municipalities, and formation of public spaces wherever necessary to boost urban greenery.
As per the plans, the existing green patches will be enhanced through plantation, conservation and building of public parks.
The Ministry of Forests and Soil Conservation has already came up with an ambitious national campaign with the slogan, 'One Household One Tree, One Village One Forest and One Town One Park' for this purpose.
Aiming to bring significant improvements in urban and rural flora, the government has also declared the upcoming decade–2014-2023 as the forest decade that also coincides with the United Nations Decade on Biodiversity.
Officials at the Ministry informed that the government has given top priority to environment across the country with active participation of stakeholders—communities and local government bodies. They believed that the participation of private sector, development partners and organizations involved in environment and forestry sectors would be encouraged to promote greening.
Nepal witnessed worst deforestation in the past three decades, a government report suggested. At present, forests constitute 39.6 percent of the country's total area and the national policy is for maintaining it at 40 percent.