News
(English) "I want to become part of the Benoit Chamoux Foundation", Aang Dawa Sherpa, student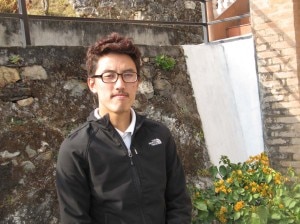 KATHMANDU, Nepal– "It's difficult to express my feelings about Foundation Benoit Chamoux. God bless its founder Fabienne Clauss, president Agostino Da Polenza and Pasang Sherpa of Himalayan Trust. Let me them know that there are no words to express my big gratitude for what they are doing". It was Aang Dawa Sherpa to say these words, thinking at what place he would have stayed if the foundation had not given him loving care.
Born in the distant village of Khumjung in Solukhumbu district, Dawa is one of the genius students "adopted" by Benoit Chamoux Foundation, a charitable social organization set up to support the orphan Sherpa children, whose one of the parents died during the course of mountaineering in Nepal and boost up the Sherpa culture.
Dawa, who seemed to be speechless frequently while talking with me during a picnic organized by the foundation, says there are no words for him to express his appreciation towards the Foundation and its founder Fabinne  Clauss who has been playing a role of motherhood for him.
Dawa, who got his School Leaving Certificate (SLC) in flying color from Himalayan International Model School (HIMS) in 2009 and joined intermediate level in Little Angles (LA), now is continuing his studies at Environment Management in Schems College, Kathmandu.
The bonds between him and the Foundation go back a decade and a half, when the latter was set up in 1996 in memory of Benoit Chamoux, a veteran French mountaineer who climbed 13 of eight thousand plus peaks and then had disappeared near the summit of his 14th Himalayan peak, 8586m height Mt Kangchenjunga on October 6, 1995 with photographer Pierre Royer and his Sherpa guide Riku.
Dawa is perceived by his teachers and colleagues as a highly intellectual student.
Moreover, he feels fortunate for the privilege to have been bestowed by the Foundation, which proved crucial in shaping his thoughts and feelings. "I am one a very lucky person, all the skills I have and even the possibility to talk with you now, goes none other than this foundation. Really, I want to be a part of the foundation in the days to come" Dawa says with a soft tone.
"Really, I was born with an enormous need for affection; there were mountain of challenges as how to cope with life after missing my father. It was the foundation which supported and yet lifted me to get out of that chaos", Aang Dawa becomes more sentimental and says he could not imagine his life if the foundation was not established.
Really, he is much satisfied with the facilities he has been obtaining from the foundation. "In truth I am much satisfied with service of the foundation, Himalayan Trust and guardian Pasang Sherpa, who is playing a role of bridge between us".
Explicitly, the students under the foundation have lost one of their parents, however, many of them have not felt their lack so far and Aang Dawa is a true example. "I didn't even realize the lack of paternal feeling" his tone goes down. Why should have he, if the Foundation with Fabienne, chairman Agostino Da Polenza, Pasang and other light hearted dignified personalities have not even made him think lacking in fatherhood?
Every day he receives the Skype and Facebook messages addressing him as 'dear son!' by Fabienne. "Oh Pasang is my Godfather while Fabienne is mother!" Dawa's happiness knows no bound.
He wants to pursue his career in Environment and become a professor after accomplishing his study. "Money is a dust of palm; I would rather like to be a recognized professor in future. I have always been an achiever, but I want to focus my energy to put in the foundation and the trust henceforth" Dawa vowed with great determination.
As a student of Environment Management, he expects a positive swing in environment in Nepal.  Dawa has also successfully accomplished an internship at the EvK2CNR Pyramid-laboratory at 5050 meters of Mt Everest.
Like Dawa, a total of 31 students are currently studying at various academic institutions including the Kathmandu University, Pokhara University, Little Angles School, and Himalayan International Model School among others in Kathmandu under the scholarships of the Foundation.