News
Nepali migrant workers' death escalated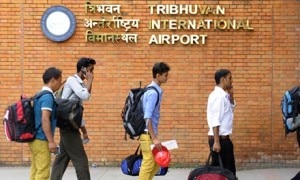 KATHMANDU, Nepal–Though the country's economy is flourishing due to the increasing remittance, the relatives and kin of Nepali migrant workers are being devastated along with the immense number of youths losing their lives while toiling abroad. Arrival of more than three dead bodies of migrant workers in Nepal just in a single day has also alarmed the other workers who are weaving plan to drudge in foreign land.
A total of 99 bodies of migrant workers, the highest ever for a single month, arrived between the mid of November to December from the major labor destinations, according to the Foreign Employment Promotion Board (FEPB) under the Department of Labor.
This number only includes those who reached abroad after getting the final work permit from the Department and those who have gone via neighboring India, the board further informed.
Such an alarming rate of workers' death in foreign land has added a huge challenge and dismay to the foreign employment sectors.
According to the Board, a total of 352 bodies of migrant workers have been brought to Nepal from various countries in the first five months of this year, which is 33 percent high in compared to previous year which witnessed 266 death toll.
Altogether 31 migrant workers have returned home after facing scores of unfortunate accidents which includes losing of body organs to severe mental diseases during the period.
Dr Ganesh Gurung, an expert at foreign employment said more than three bodies of Nepali workers landing daily at the Tribhuvan International Airport (TIA) is unfortunate for the employment sectors.
According to him, lacking in training on the part of workers, worker's decision for ready to leave for gulf countries sans orientation and lacking of remuneration as per the agreement have fuelled the death.
The board' figure showed that the highest number of Nepalis' deaths have taken place in Malaysia. A total of 110 bodies have been flown in from Malaysia in the last five months, followed by Qatar (89) and Saudi Arabia ( 20). Likewise, 19 dead bodies were brought from Kuwait while eight from Bahrain during the period.
The board provides Rs 150,000 as compensation for the families of deceased workers. Many foreign workers are said to be died due to the temperature disparity, as they work in the baking heat throughout the day and then sleep in a cool air-conditioned room in night. Since the workers have now started to go through illegal channels instead of applying lawfully, the numbers of death is likely to be rise significantly in the coming days.