News
Nepali Congress tops FPTP system; Pro-monarchist party leading in PR system in Capital

KATHMANDU, Nepal – With the vote count under the First-Past-The-Post (FPTP) electoral system drawing to an end, Nepali Congress (NC) party has emerged as the largest seat owner. The NC has been followed by two leftists CPN-UML and Unified CPN (Maoist) parties in the second and third position.
Although voting results from two constituencies are still awaited, NC, which has won 105 seats out of 240, has now emerged as the largest party. However, it has failed to win coveted 121 seats to gain majority under FPTP category.
The majority of senior NC and UML leaders, who lost the previous election, emerged victorious this time except for a few second-rung leaders.
The party had lost in the first Constituent Assembly elections held in 2008 miserably by winning only 37 seats under FPTP category.
Meanwhile, CPN-UML and the Unified CPN (Maoist) are following the NC with 91 and 25 seats under the FPTP category.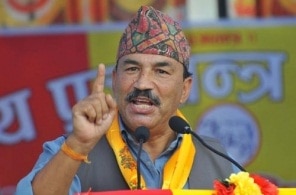 The election for the CA has been conducted under FPTP and the proportional representation (PR) system. A total of 335 candidates will be elected under PR. And the full strength of the parties will be known after the Election Commission announces the final results under the PR system.
So far, CPN-UML is leading the PR vote counts, which could eventually see it emerge as the largest party when the final results of the CA 2013 is out.
According to the EC, PR vote count will be completed within next week and the seats will be calculated based on the number of votes the parties secure.
Interestingly, Rastriya Prajatantra Party Nepal, which failed to win a single set in the FPTP category, is leading the vote count under the proportional representation category in the Capital.
So far, RPP-Nepal, known as the pro-monarchist party, has won 9998 votes so far in the PR category in the Capital vote counting . It is followed by Nepali Congress on 9098 votes while CPN-UML is third with 3200 votes. UCPN (Maoist) is fourth with 2900 votes.
However, in the nationwide vote counting, CPN-UML is leading the trail.