News
Tourists enjoy hassle free travel on poll day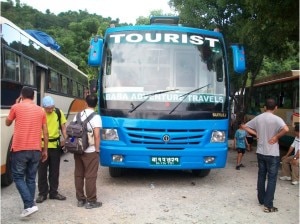 KATHMANDU, Nepal – Foreign tourists visiting Nepal on the day of Constituent Assembly on Tuesday has enjoyed the hassle free travel, thanks to the special measures taken by the Nepal Tourism Board and other tourism related organizations that made the tourist movement possible even on poll day.
Tourists did not have to face any difficulties as the board, Hotel Association of Nepal, Trekking Agents' Association of Nepal, Himalayan Rescue Association among other tourism related organizations have run the shuttle bus service from airport to the hotel and vice versa for the tourists visiting through air route.
The NTB under the banner of Tourism Crisis Cell with the coordination of Nepal Tourist Vehicle Association and Tourist Police has arranged shuttle bus service for the national and international air passengers from airport to various hotels and vice versa on Polling day of Election of Constituent Assembly on November 19, 2013.
According to the NTB, it alone has run 40 shuttle buses in cooperation of other organizations on the day. Tourists those coming and leaving the country on the elections day were ferried by the shuttle buses from 5 in the morning to 11 in the evening.
According to NTB's Communication Coordinator, Sarad Pradhan, more than five thousand tourists enjoyed the facilities.