News
Everest Summiteers felicitated in London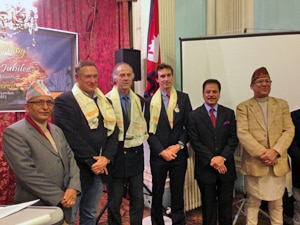 KATHMANDU, Nepal – Four Everest summiteers have been felicitated in London at a special function organized to mark the diamond jubilee of the first ascent of Mount Everest.
Among the climbers felicitated include Sir Ranulph Fennes, Kenton Cool, David Hempleton-Adams and Alan Hinkes.
Sushil Ghimire, Secretary at the Ministry of Culture, Tourism and Civil Aviation, felicitated the Everest summiteers amidst a programme organized at the Nepali embassy in London on Tuesday, said the Nepal Tourism Board in a press statement Wednesday.
Addressing the function, Ghimire said that Mt Everest belongs to the whole world, not only to Nepal. Responding to queries regarding pollution, Ghimire said environmental conditions have been significantly improved in the Everest region over the last few years.
"Secretary Ghimire also informed that the Government of Nepal had decided to waive climbing fees for 49 mountains in the far western region to attract climbers in that region," further reads the statement.
Of over 1,000 mountains, Nepal has opened a total of 326 mountains for climbing but most of the expeditions are focused in the Khumbu region, officials say.
Addressing the function, Nepalese envoy to the UK, Dr Suresh Chandra Chalise, said Mount Everest is the wonderful gift of nature to the whole world. He said there was a need to keep the tallest peak in the world free from pollution and overcrowding. He called upon British climbers, tour and travel operators to promote Nepal as one of the preferred tourist destinations, according to the NTB.
Subhash Niroula, acting CEO of NTB, said Mt Everest was a world heritage site and a global property. Saying that Nepal is a modern, vibrant and open society, he said Nepal now had good connectivity to bring tourists from all over the world. Nirola said in partnership with other stakeholders, NTB was working to increase the number of tourists visiting Nepal and also increase their average stay from current ten days to 14 days. "Naturally Nepal: Once is Not Enough" is our motto and we are working hard to disseminate this message," Niraula was quoted as saying in the statement.
Nepal has been designated as one of the top ten value destinations for 2013 by Lonely Planet, a leading travel guide publications.
Leading UK-based tour operators, travel agents, Nepalese entrepreneurs and members of media were present in the programme.