News
Gulf state carrier doubles flight frequency to Nepal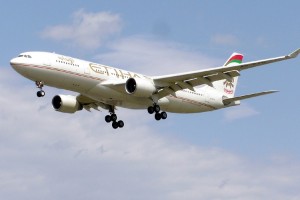 KATHMANDU, Nepal- Etihad Airways, the national flag carrier of the United Arab Emirates (UAE), is increasing its flight frequency to Nepal by twofold.
The airlines has brought its new decision into effect from Sunday. After increase in the flight frequency, the airline, now onwards, will operate 14 flights per week connecting its capital Abu Dhabi to Kathmandu.
On April 16, Nepal and the United Arab Emirates had signed an enhanced bilateral Air Service Agreement (ASA), permitting the operation of 70 flights per week on a reciprocal basis. Under the previous memorandum of understanding (MoU), signed on Dec 27, 2007, designated carriers from the two countries were allowed to operate 28 flights weekly.
At the time when air passengers are finding it hard to book the air seats for Nepal this tourist season, the government has also issued temporary operating permits (TOP) for the international airlines connecting Nepal, that allows the airliners add flight numbers.
The Chinese carriers, airlines operating from the Gulf states and India have been operating extra flights under the TOP scheme.
Under the policy to lure more tourists, the government issued the TOP scheme during the Nepal Tourism Year 2011, Visit Lumbini Year 2012 and continued it for 2013.
The additional flights driven by the demand from business and leisure travelers will further strengthen the commercial and cultural ties between Nepal and the UAE, the airline said in a statement.
Etihad currently caters 50 percent leisure travelers and has less Gulf Cooperation Council (GCC) countries traffic, according to the statement.
"The double daily flights will help connect more destinations over the airline's Abu Dhabi hub to key destinations in Europe, Middle East and GCC countries," the statement quoted Pawana Shrestha, general manager of Etihad Airways-Nepal.
Meanwhile, the airline has also announced promotional fares to some popular destinations in Europe and North America. According to the statement, the promotional fares are available to London, Manchester, Frankfurt, Milan, Munich, Brussels, Geneva, Paris, New York, Chicago and Washington.
Shrestha said that the fares are for sale until October 31 and the travel period is from October 27 to May 31, 2014. Etihad, which started Kathmandu flights in 2007, has carried more than 620,000 passengers in the sector. The airline claimed that it enjoys 8 percent market share in the domestic aviation industry.