News
Govt unveils plans to observe Mt Everest Diamond Jubilee Celebration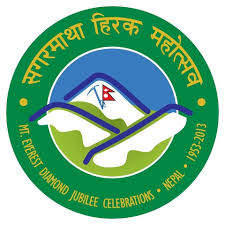 KATHMANDU, Nepal- The government has announced the year 2013 as Mt Everest Diamond Jubilee Celebration year to mark the diamond jubilee of the first ascent of Mt Everest celebration.
It is also preparing to establish a Mt Everest Monument at the Dead Sea, a saltwater lake on the border between Israel and Jordan with surface in 1292 feet below sea level,  which will help promote the peak.
To celebrate the occasion amidst much gusto the government has also formed the Mt Everest Diamond Jubilee Celebration executing agencies comprising the Ministry of Culture, Tourism and Civil Aviation, Nepal Tourism Board and Nepal Mountaineering Association.
The main executing agencies have made the government plans public during a press conference organized here.
During the programme officials of the agencies informed about various programmes that will be organised to celebrate the occasion.
According to the agencies, they will organize the Everest Conference in Khumjung in which working papers on global warming and its effect on the Himalayas will be presented, Tour De Lumbini — a cycle rally from Kathmandu to Lumbini and back from May 23-25, civic felicitation at Basantapur Durbar Square.
As per the plan, the May 27 will be observed as photo and philatelic exhibition related to Mt. Everest in Kathmandu, while on May 28, Tenzing and Hillary Award will be given to the most deserving Everest summiteers.
On the main event day of May 29, many famous personalities of the mountaineering sector will be the guests of honor. The government has planned to felicitate Kancha Sherpa, the only surviving member of the 1953 Everest expedition team.
Among other guests are Appa Sherpa, a 21 times Everest  summiteer, Reinhold Messner, the first person to climb the peak without oxygen and all 14 highest mountains on earth and Tenzing's grandson Tashi.
The government will also felicitate Amelia Rose Hilary, granddaughter of the legendary late Sir Edmund Hillary, who along with Tenzing Norgay Sherpa scaled the peak for the first time on 1953, as goodwill ambassador of Nepali Tourism Board. According to acting CEO of the board, Suvash Niraula, she will promote Nepal and the Mt Everest through out the year 2013.
Around 1,000 Everest summiteers are expected to arrive for the ceremony, while 40 record holders will be conferred with the Diamond Jubilee Medals in Narayanhiti Palace Museum in Kathmandu.
The agencies also plan to issue a commemorative postal cover of the diamond jubilee and International Mountain Museum.
They will also distribute the TAAN Mt Everest Journalist Award, TAAN Mt Everest Harka Gurung Award, TAAN Mt Everest Pasang Lamhu Award and Mt Everest Pema Doma Education Award.