News
Entrepreneurs demand professionalism in trekking business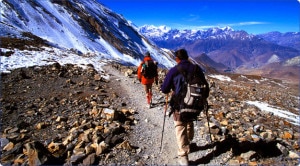 KATHMANDU, Nepal- Tourism experts and entrepreneurs during a programme organized here by Trekking Agencies' Association of Nepal (TAAN) have urged the government not to treat the trekking business as other types of business and asked the fellow trekking entrepreneurs to act professionally.
"As this business is helping the government to earn foreign currencies through tourism and also helps to collect a remarkable sum in tax, the government should treat this sector differently from others, the trekking experts said during the programme.
"The government should end illegal operation of trekking business. It should also address issues like social security of workers to make tourism business sustainable," said TAAN CEO Gangasagar Pant.
Rajan Simkhada of Earthbound Expeditions asked the government to review VAT rates imposed on tourism services. "The government should also review mountaineering permit fee and take initiative in developing trained manpower for the trekking and adventure sector," he said. He also asked trekking entrepreneurs to stop promoting Nepal as a cheap destination.
Highlighting the problems that trekking agencies have to face while conducting helirescue in restricted areas, Chhetup Tamang of Altitude Randonnee Trekking asked the government to study the problems and simplify the procedure.
Bodhraj Bhandari of Snowy Horizon Treks ask TAAN and the government to make TIMS fund more transparent. He also asked the government to implement TIMS as per the one-door system through TAAN.
Likewise, Tilak Lama Himaland Adventure asked government and TAAN to explore alternatives routes near popular trekking trails which are being shortened with the advent of road network.
Commenting on the rising incidence of disappearance of trekkers in different trekking routes, Mindas Tamang of Amazing Authentic Treks asked the government to take the issue seriously. "Incidents like these will harm our destination image," he added.
Similarly, representatives of different trekking workers unions asked TAAN and government to introduce programs for social security of workers. They also asked the government to make TIMS Fund more transparent.
Responding to demands raised by the private sector, Purna Chandra Bhattarai, joint secretary at the Ministry of Culture, Tourism and Civil Aviation, said the MoCTCA has formed a taskforce to review royalty fee of different mountains in the country. Among others, the taskforce will suggest to the government to open more peaks for mountaineering and review permit fee to different restricted areas, he added. "Works on improving service delivery of Nepal Tourism Board (NTB) is also underway," said Bhattarai.
Bhattarai also said the tourism ministry has sought technical assistance from UNWTO to prepare strategic plans to achieve targets set in Tourism Vision 20-20 document.
Speaking at the program, TAAN President Mahendra Singh Thapa said Nepal is becoming an expensive destination due to imposition of different taxes. "The government should fix benchmark price. It will help illegal competition in trekking business," he added.
At the beginning of the program, Pant made a presentation on various problems being faced by trekking entrepreneurs. He also suggested to the government measures that it should take to address these problems.
TAAN has organized a programme to access the problems in the trekking sector of Nepal.
The interaction on 'Managing Problems in Trekking Tourism' was organized to collect feedback from trekking entrepreneurs on different rules, regulations and guidelines related to trekking tourism, the organizers said during the programme.