News
(English) Officials heading towards war torn Iraq to rescue stranded Nepalis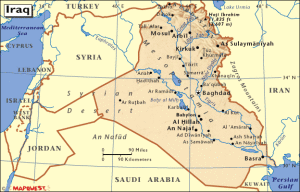 KATHMANDU, Nepal–In a bid to facilitate the rescue efforts of Nepalis trapped in Iraq, a high-level government team is heading towards the war-hit country soon, officials at the Ministry of Foreign Affairs informed.
Considering the fact that the conflict is likely to prolong further with unpleasant consequences, the government decided to send the officials there to rescue Nepali workers. The team will be sent after ascertaining required coordination with countries bordering Iraq, it is learnt.
Earlier, releasing a press statement by the Ministry, it said that rescue attempts were accelerated to bring those trapped Nepalis in Iraq back home.
The Ministry has also requested the Nepalis living there to adopt required safety measure and return home shortly through safer ways in view of the Islamic militants' deadly attack.
The government in coordination with the missions of India, and  Pakistan and humanitarian agencies such as the International Committee of the Red Cross (ICRC) and International Office of Migration (IoM) has decided to either move the marooned Nepalis to safer locations both within or outside Iraq or facilitate their return.
Meanwhile, paper works of the four Nepalis, who were released by the Islamic militants after four days of detention, is underway in Iraq to bring them back home, according to Nepal´s embassy in Pakistan, which is concurrently accredited to Iraq. "
Likewise, the embassy is also learnt to have made attempts to send back three other stranded Nepalis, who are currently living at the residence of their Iraqi colleague in Tikrit with the help of ICRC and IOM.