Alpinismo
Alta quota
(English) Locals send off first GB mountaineering expedition to K2 with well wishes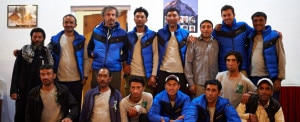 SKARDU, Pakistan — The first eight mountaineers of the Gilgit-Batistan received overwhelming reception from the local authorities, tourist organizations and the foreign mountaineers at the send off ceremony of the first ever Pakistani expedition to summit the K2 peak.
The ceremony was arranged by the Central Karakoram National Park (CKNP) and the Gilgit-baltistan Tourism department with the support of the Ev-K2-CNR here at a local hotel on Friday evening. Minister Shaikh Nisar Hussain Sarbaaz was the chief guest on the occasion while the speakers included Italian mountaineering expert Maurizio Gallo, Deputy Commissioner Raja Faisal KHaliq, Director CKNP Raja Abid Ali, Mountaineer Hassan Sadpara, Mountaineering trainer and President Baltistan Association of Tour Operators Muhammad Iqbal, President Pakistan Association of Tour Operators Amjad Ayub, Pakistan K2 Expedition team Leader Muhammad Taqi, and Expedition focal person Munir Ahmed and Arif Hussain.
Minister Shaikh Nisar Hussain Sarbaaz said our mountains are the best for adventure tourism and mountaineering, the region is very peace and hospitable for the domestic and foreign guests, only a few try to disrupt the peaceful environment for the vested interest of the external elements.
Murizio Gallo mentioned that the team is competent to scale the K2 peak if something harsh would not happened. all the mountaineers are very enthusiast and well aware of the harsh behavior of the mountains, Gallo believed they have requisite skills and techniques to handle the untoward situations. Two Italian mountaineering Ambassador Michele Cucchi, alpine guide and Simone Origone world champion speed skiing (251,40 km/h), would be available to the Pakistan expedition for technical support and assistance in the hour of need.
The Director CKNP Raja Abid Ali said we have several opportunities in of tourism in park that is being developed with the support of Italian government. This expedition would mainstream CKNP and Pakistan on national and international level.
Bato President Muhammad Iqbal was very happy to see the porters becoming the mountaineers. "I trained them as porters and to climb initially, now the Italian mountaineering experts have equipped them with skills and techniques to climb the harshest mountain – K2, I believe in their skills and with the mercy of God they would be successful".
President Pato Amjad Ayub urged the government take steps to promote and mainstream internationally the mountaineering and adventure tourism. Tourism shall be taken on the federal subject, he urged.
Munir Ahmed said the K2 first ascent by the Italian expedition on July 31, 1954, when Achille Compagnoni and Lino Lacedelli reached for the first time ever the K2 summit, the most difficult mountain in the word. The success of that historical challenge was possible thanks to the support of the expedition' Pakistani members, first among everyone Amir Mahdi, but also thanks to the Hunza porters that were along with Desio team. Today the history is repeating but for the first time ever in fact an officially Pakistani team will attempt K2 summit.
Team Lead of the expedition, Muhammad Taqi thanked all the organizations supporting his team of mountaineers. He said, "Without the support of president Ev-k2-CNR Agostino Da Polenza, the Pakistani expedition facilitate for the permissions. We are happy and looking forward to scale the K2 as mountaineers not as porters."
Munir Ahmed
[nggallery id=884]
[nggallery id=885]