News
(English) FIFA World Cup: Football fans throng to sports outlets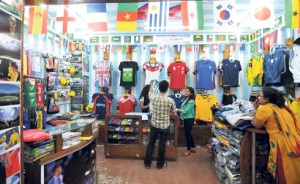 KATHMANDU, Nepal– With FIFA World Cup 2014 nears the door, the sale of jerseys of different countries has mounted up in the Capital Kathmandu with fans preferring to wear the jersey of their favorite teams.
Most Nepalis are fans of Brazil, Argentina, Italy, the Netherlands, Portugal and Spain. FIFA World Cup, which is possibly the biggest sport gala in the Earth, kicks off in Brazil, Thursday.
Owners of sportswear outlets say the demand for football jerseys is escalating each day.
Operator of Himalayan Sports Stores at Bagbazar, Laxmi Thapa said there is a high demand for jerseys and handkerchiefs painted with the flags or signs of their favorite teams.  Laxmi has witnessed tenfold rise in sales of foot ball Jersey within a week.
Jerseys which are widely sale during the world cup are priced between Rs 500 to Rs 1,000 per piece depending on the quality.
"We are doing quick business since hundreds of football fans are thronging our shops everyday looking for jersey of their favorite teams. We have various qualities of jerseys with price range of rupees 400 to 1000 depending upon the choice of the customers" Archana Thapa of Sundhara Mahal told to Nepal Mountain Focus.
Thapa, who is selling around 150 jerseys each day says the jerseys of Argentina, Brazil, Italy, Germany, and Spain are in high demand.
Not only jerseys, but football, caps, tea cup and glasses with tags of various teams are also high in demand.
Rabi Tamrakar, an engineering college student attired in the Jersey of Italian national team, says supporting a team by wearing its jersey is as similar as supporting it by going inside the stadium itself. Tamrakar further said his brother and sister are fan of Brazil and Argentina respectively while his father loves Italian team much. He further disclosed that they are betting for their loving team.
Subin Khatri, senior sub-editor of Kathmandu based daily newspaper said he purchased Italy's jersey while his brother Sumeet looked for Brazil's. Khatri claims that Italy is winning for the fifth time. Italy has won the world cup title in 1934, 1938, 1982 and 2006.
Rabi Thapa, a sport reporter working at a daily news paper said growing popularity of different sporting activities among Nepali youths has led the increasing trend to buy Jerseys and other materials in the latest days.
In the meantime, the trend of posting kits and jersey of their favorite team in social media like Facebook is apparently high.