News
This Christmas, New Year, party goers have a lot to enjoy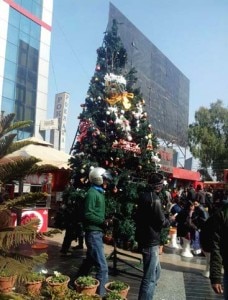 KATHMANDU, Nepal – Despite its identity as a Hindu state, Nepal has never left its effort to please its guests organizing different events relating to other region and groups.
Christmas is in the air and so the eve of the New Year. And the hoteliers and travel operators in and around tourist areas in Kathmandu are seen decorated with X-Mas Trees, Santa Claus like portraits. And of course the illumination is praiseworthy.
From star hotels, malls to travel agencies and even automobile dealers here have announced attractive packages and discounts to cash in on the growing trend of celebrating Christmas and New Year.
Christmas and New Year packages announced by star hotels generally include dance and musical program along with lavish buffet and unlimited drinks. Of late, hotels have started offering attractive discounts and door prizes – ranging from free magazine and newspaper subscriptions to foreign trips.
On the occasion of Christmas, Hotel Yak and Yeti is giving continuity to its event ´Sinners in Heaven´ on New Year Eve this year as well. The hotel has been organizing the event that will feature DJ Curly and the package includes free flow of beer and wine, Pepsi and Red Bull and buffet dinner at Rs 2,500 per person inclusive of taxes.
Besides, the hotel is also organizing a gala dinner that includes lavish buffet, a welcome drink and live band by Faith Knots and six-course candle lit dinner with sparkling wine at a discount price.
Another 5-Star Hotel The Everest Hotel is also organizing a program named 'Christmas Eve Fully Loaded' in which customers will get to enjoy gala dinner, unlimited drinks, attractive door prizes, musical program, fashion show, and performance by Modern Dance Troupe, India.
Similarly, Radisson Hotel Kathmandu is organizing three different events to celebrate Christmas. According to the hotel it will host extensive and elaborate traditional buffet dinner,  five-course traditional X-Mas vegetarian and non-vegetarian meals with a complimentary drink and wide selection of traditional and contemporary Christmas cakes, pastries and bakery items along with lovingly packed X-Mas hampers.
Similarly, travel agencies like Hamro Holidays and Ace Travels have announced special packages with attractive discounts for people traveling to celebrate Christmas and New Year abroad.
Likewise, United World Trade Center, a business center in Kathmandu is organizing free snow fall dance party at its premises on Christmas Eve and Christmas Day.
Apart from these, from small shops to shopping malls, everyone has a lot to get in offer and discounts on this festive season.