News
24 families displaced, 50 at risk after caving in continues in Pokhara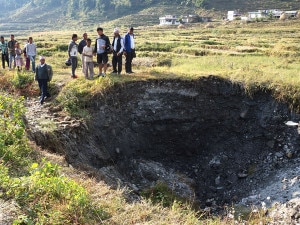 KATHMANDU, Nepal – Around 24 families of Armala VDC-1 in Kaski near Pokhara the popular tourist destination in the country have been displaced after 'the land started caving in.' With sinkhole formation continuing in the  VDC, other 50 families are at risk.
News reports quoting the local people said that the walls of the house of Himlal Acharya developed cracks while courtyards of the houses of Bhim Bahadur Karki and Balaram Acharya are said to have been caved in. More than 18 other houses are at risk after their houses and land started caving in after sinkholes formed near the Majhuwa stream.
"Twenty-five families migrated elsewhere till Saturday. The settlement is prone to risk as the problem continues," said Karki. Around 50 families are living in the village.
Around 100 meter land on the either sides of Kalikhola is reported to have caved in. VDC secretary Ram Chandra Poudel told the state-run television said that one or two small sinkholes appeared at first in the area, followed by around 35 big trenches now. He said that they have informed various government agencies of the incident.
Secretary of the local natural disaster management committee, Dhan Bahadur Karki was quoted by the Kantipur daily saying that the local administration also halted vehicular movement in the area after the road in the area started caving in on Saturday. Schools and other educational institutions are also closed.
Efforts to let underground water flow through a canal as per geologists' advices have appeared to be ineffective. "We dug a three-meter deep canal to let underground water flow.
However, water did not come out as expected. Instead the canal started caving in," said Poudel. Geologists Lilanatlh Rimal and Kushalnandan Pokharel had submitted a preliminary report, calling on the authorities to let underground water flow in order to immediately curb the problem.
Meanwhile, Minister for Local Development Bidhyadhar Mallik and Secretary Shanta Bahadur Shrestha on Saturday inspected the affected site. After inspecting the area, Mallik said the sinkhole problem is a matter of grave concern and that he would take initiatives to resolve it. "I will put the matter in the Cabinet and seek an end to it," he said.
Kaski Chief District Officer Yadav Prasad Koirala said efforts for the management of underground water were going on.