News
Lack of DNA record induces tiger poacher free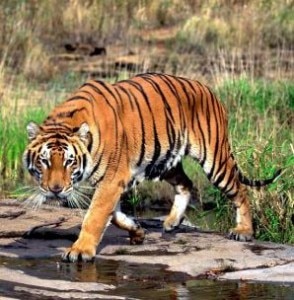 KATHMANDU, Nepal-Due to the lack of DNA record of all tigers, Government of Nepal and its responsible body like Nepal police, Department of National Parks and Wildlife Conservation (DNPWC), National Parks among other institutions often fail to detain the main perpetrators involved in wildlife trade.
Officials at Central Investigation Bureau (CIB) a branch of the Nepal Police which has been largely succeeded in establishing a powerful agency to combat against wildlife trade complained they seized tiger parts every so often but those culprits involved in the in poaching and trading could never be identified.
Experts said as there is a huge network of wild life poachers, it is really hard task to access to the bottom of the web. They suggest poaching activities can be curbed effectively if DNA profiles of all tigers can be maintained.
'Those people we pick up with animal parts may not inevitably be the only ones behind the poaching,' an official at CIB said adding even if they make out some of them, it is really difficult to get into the bottom and find out the truth as expected by people since there is a chain of poacher in wildlife trading.
However, some of the tiger experts have of the opinions that studying DNA profiles of big cats here in Nepal would not be adequate to control increased poaching in the country since origins of most of the big cats' parts seized here can be traced back to other countries specially neighboring India.
According to a report made public by WWF Nepal and the IUCN, Nepal is the third country in terms of tiger parts seizures, just behind neighboring India and China. Nepal police had made public 39 seizures of tiger parts from 2000 to 2010 from various regions of Nepal.
With the swelling poaching activities across the nation, DNPWC is learnt to have making partner with several institutions to maintain DNA profiles of big cats.
Previously, the DNPWC had taken out DNA samples from tiger scats after inking a Memorandum of Understanding (MoU) with the Center for Molecular Dynamics Nepal (CMDN).
Experts say DNA record of tiger is an attempt to maintain genetic profiling of all big cats similar to developing our photo album while the process makes easy to identify how different one tiger from others.
Nepal has set a goal to double tiger´s population by 2022 compared to 2009 figure. In 2009, only 121 tigers were found in Nepal.
According to a government report, altogether there are 198 adult tigers in the country now.