News
Five-star hotel with multi attractions to be built at an elevation of 3000 m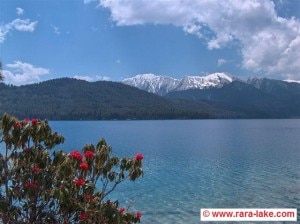 KATHMANDU, Nepal- A modern five-star hotel is all set to be built in the western bank area of Rara Lake, Mugu at an elevation of about 3000 meters.
Rara Project Private Limited, the company that wants to invest in the hotel, has started a fresh environmental impact study to this effect.
The company has proposed to build the hotel at Upper Milichour in Rara National Park (RNP) 2,990 m above sea level investing Rs 4 billion.
On Sunday, Rara Project held a meeting regarding the environmental impact with the officials of RNP and the communities concerned.
Though the area has high tourism potential due to its natural beauty and the lake, that is largest in the country, only few domestic and foreign tourists made their way up to the place since there is no infrastructure to attract tourists.
According to the company, it will begin the hotel construction soon after it get permission from the Ministry of Forest and Soil Conservation.
As per the plan of the Rara Project, the hotel will be built on 200 hectares of land and will have a total of 10 modern buildings that will be three to four storeys. In the first phase, the company will build seven buildings and three will be built in the second phase. It is estimated that the hotel will offer employment opportunities to 300 individuals.
Facilities such as a Scottish golf course, biking, jogging and hiking are anticipated beside the plan for bird watching and wildlife tours.
The company has proposed to generate electricity using the water of Rara Lake for the use of the hotel. The proposal of the company has showed that it would provide a paragliding service in Lower Milichour and build a route for cycling from Talchha Airport to the hotel. It has also targeted to install a cable car from the hotel to Murma hilltop to attract tourists.