News
Eco-Himal trekking trail launched in Rasuwa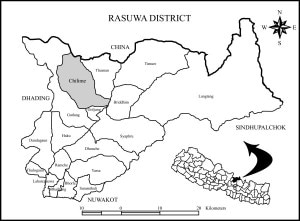 KATHMANDU, Nepal- A new trekking trail has been developed in Rasuwa district in the joint initiative of Nepal Tourism Board (NTB), Trekking Agencies' Association of Nepal (TAAN) and Rasuwa–Nuwakot Tourism Society (RNPS).
On the 15 day-long eco trekking named as 'Syangen Himal Eco-Tourism Trekking Trail' that starts from Lahare Pauwa trekkers can enjoy a number of tourism sites such as Somdang Valley, Jageshwor Pond, Ganesh Himal and Paldor Peak.
According to the NTB, homestay, locale recipes, local tradition and culture among other typical Nepali village experience is the specialty of the trail.
The Village Tourism Promotion and Environment Conservation Centre of Rasuwa had conducted the study on possibility of trekking in the areas.
The centre has said that the trail would be further developed in cooperation of NTB and TAAN. During a press meet organised at NTB, representatives from Rasuwa–Nuwakot Tourism Society  handed over the study report about the trail to NTB and TAAN.
TAAN general secretary Mohan Lamsal said that the trail would attract many internal and foreign tourists as it possess a set of specialty. "One can enjoy a total eco-trek while on this trekking," he said, adding, TAAN will cooperate with the concerned to develop the trail. Officiating CEO of NTB Suvash Niroula has said the trail must be divided into different sub sections and sub-trails so that internal tourists who wish to travel the area can enjoy it. Niroula also wants the trail to be linked with the Great Himalayan Trail after meeting the standards.
TRNPS representatives, during the programme, informed about the need to develop proper infrastructure along the trekking trail to support the development, conservation and promotion of tourism sites in Rasuwa and Nuwakot. They also said that the region could be developed as an adventure tourism product.
They have also suggested NTB and TAAN to promote homestay programme in such areas and organize awareness programmes among the people regarding sanitation and hygiene.