News
Life Jacket mandatory for tourists, locals feel negligence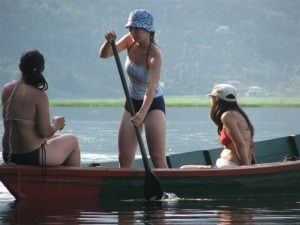 KATHMANDU, Nepal-The District Administration Office (DAO) of Kaski has made life jackets obligatory for the tourists boating in Fewa and Begnas Lakes of Pokhara. The DAO´s move comes on the heels of the death of four persons when a boat overturned in Begnas Lake in April.
The rule, however, does not apply to scores of locals, even though they should have to cross the lakes frequently.
The local are disappointed by the negligence on the part of state since the boat is the only tool they can use to reach Pokhara across Fewa and Begnas Lake risking their journey and sometime even cost to their life.
"Everyday our children use a boat to reach their schools in Pokhara. But none of them possess a life jacket," Gurung adds. "We are always about their safety," Nagarik daily quoted Jeevan Gurung, a resident of  Kaski. According to him over 20 students from Anudhu cross the lake to reach their schools.
The villagers urgently require life jackets as they have to use the boats they have to cross the lakes every now and then.
The students are most susceptible to accidents as a strong wind blowing during the evening likely to turtle the boats.
Locals residing across Begnas Lake share similar plight. Everyday hundreds of locals from Kotbari in Lekhnath Municipality sail their boats in the Lake though not a single person has a life jacket.
"Everyone is concerned about the safety of the tourists. Why does not the government care for our security? " the paper further quoted another local Lekhnath Pandey as saying. According to him the authority should manage at least one life jacket to each family in the villages."
In the meantime, Dhak Nath Kadel, president of Begnas Boat Business Committee, lamented that the committee has not been able to manage life jackets to the villagers adding the DAO should provide at least one jacket for their safety.