News
Govt confers Tenzing-Hillary, Sagarmatha National awards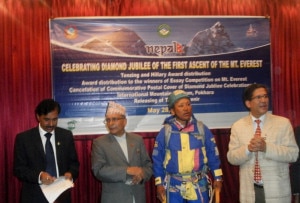 KATHMANDU, Nepal- The government of Nepal has felicitated various personalities contributing to promote mountain tourism and the himalayas of Nepal from various quarters on the occasion of  60th year of first human ascent on Mount Everest.
In the programme organised to commemorate the diamond jubilee celebration in Kathmandu on Tuesday, the government feted mountaineers and mountaineering organizations to recognize their contributions.
On the occasion, the Tenzing-Hillary Everest Award 2013 has been conferred to the Everest Summiteers Association.  Wongchu Sherpa, chairman of the association, received the award on behalf of the association.
In the same way, the government has conferred this year's Sagarmatha National Award to climber Chang Dava Sherpa.
Secretary at the Ministry for Tourism and Civil Aviation, Sushil Ghimire, conferred the awards to the respective winners.
Also on the function, the secretary distributed climber identity cards to the mountaineers for the first time.
On the occasion tourism minister Ram Kumar Shrestha, put first mark of cancellation on stamps released to mark the Mt Everest Diamond Jubilee Celebration.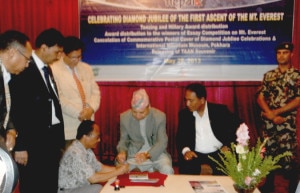 Speaking at the programme, minister Shrestha said the Everest is the heritage for Nepal. And to conserve it all should work together. He, stating that the government has been formulated policies and working on the new ones to save the mountain for the new generations, urged all to make the event a success.
Stating that high priority has been given to Mt. Everest though there are many mountains in Nepal, secretary Ghimire said, the peak is a legend for not only Nepal but for all. Saying that the first human foot on Everest is the second triumph of mankind after their first step on the moon, Ghimire said, all most all in the world are eager to visit and see the Everest once in their life time, making it more precious and important.
"And we want to cash this global interest on Everest but without compromising its natural beauties" Ghimire said, adding, "Being centered to the Everest we take this opportunity to promote overall tourism activities specially mountaineering tourism in Nepal".
He urged all to commemorate this special occasion and make the function a success.
On the occasion, the government has also felicitated renowned mountaineers along with niece of Sir Edmund Hillary, winners of the national essay competition and other mountaineers.