News
World's roof witnesses records and tragedy on Monday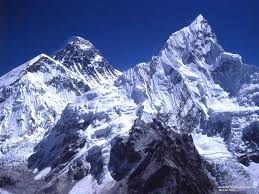 KATHMANDU, Nepal-The roof of the world Mt. Everest witnessed a huge crowd on Monday as well with one hundred mountaineers successfully atop the peak. Only on Sunday, one hundred and thirty five climbers had reached the peak. A Nepali Sherpa and two  foreigner climbers died while descending the Everest on Monday.
Everest saw numerous records and tragedy on Monday. Nepali-born Canadian, Sudarshan Gautam earned the title of being the first amputee sans both arms to scale the peak.
Due to excessive crowd, Sherpa guides are feeling excited and rescue workers are further fear citing the scarcity of guides in case of unpleasant situation at any time.
Actor on the roof of world
Arjun Karki, an Actor of Nepali film industry and national marathon player Sanjaya Pandey have reached on the top of the Everest on Monday morning. They reached the top this morning at 7:30, informed liaison officer Onchhu Sherpa. Both the climbers have already descended to Camp IV. There are 14 foreigners, 25 Sherpa and a player at their team coordinated by the Seven Summit Expedition.
Majors with 11 army personnel atop peak
Two majors of Nepal and India along with eleven army personnel have successfully scaled the Everest on Monday. A team under Nepal-India Mt. Everest Expedition and Sanitation Campaign led by Major of Nepal army Aditya Karki and his Indian counterpart Manoj Joshi reached the top of Everest at 7:35, today, informed Nepal Army's assistant spokesperson Suresh Shrama . Among the twenty member team, nine had reached the top on Sunday.
Veteran mountaineer Sherpa dies
Likewise, a veteran mountaineer Nagel Sherpa in eastern region of Khotang district died on Mt. Everest, Monday morning. Sherpa, who scaled the Everest for 10th times died while descending from Camp III to Camp II, at the height of 7,900 meters, this morning. Sherpa died on the spot soon after he complained of chest pain, Mountain Consult and Trekking and Expedition Private Limited Durga Thapa said.
Two foreign climbers die
Two foreign climbers died in Mt Everest, Monday evening, Ministry of Culture, Tourism and Civil Aviation confirmed. Bangladeshi mountaineer Mohammad Khalid Hussain and Sung Ho-Seo of Korea died while descending from the Everest.
According to Khim Lal Gautam, official at the Ministry, Hussain died at 8600 meter and Sung died at 8000 meter.
Nine mountaineers have died on their attempt to scale the peak till Tuesday, this season.
1st double amputee on Everest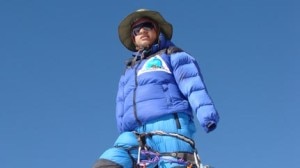 Meanwhile, Nepali-born Canadian, Sudarshan Gautam has become the first double amputee to step foot on the world's highest peak. Gautam reached Mt. Everest at 9:00 am on Monday, informed Tourism Ministry's official Khim Lal Gautam.
Sudarshan, 30, was on a mission to spread the message that "disability is not inability." He had lost his hand at the age of 14 in an accident.
"I am feeling proud today to step in the top of Mt. Everest at 10:55 a.m., this is due to the inspiration of you all the supporters," he wrote on his Facebook page, sharing the moment with well-wishers.
"I have succeeded to fulfill my dream and I'm very happy. At present I am returning back. Soon I will be with you all", he further said in his facebook wall.