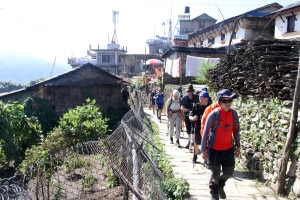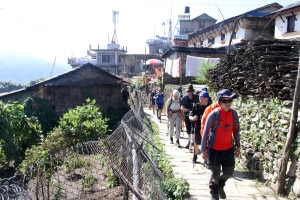 KATHMANDU, Nepal–Local tourism entrepreneurs of mountainous districts Manang and Mustang have called the concerned authorities to resume trekking activities in the area along the Annapurna circuit as soon as possible.
The Annapurna Conservation Area Project (ACAP) and Trekking Agencies' Association of Nepal (TAAN) has banned trekking activities in Annapurna circuit and adjoining area since Friday after the fatal blizzards that claimed at least 43 domestic and foreign trekkers leaving many other injured and missing in the Himalayas in western Nepal.
Local entrepreneurs have also refuted the media report that hundreds of trekkers stranded in the area claiming that some media exaggerated the incident as it was natural calamity.
They also ruled out the report that businesspersons did not provide required support to the blizzard victims. Hotel entrepreneurs Anil Bhattachan said he saw such a fatal incident for the first time during his 15 years of business in the area.
Likewise, another hotel operator at Thorang High Camp, Pemba Gurung also shared that trekkers died because of not only blizzard, but also due to cold gust which followed the snowfall.
Meanwhile, TAAN Western Regional Office said the ban will be lifted within a couple of days.
In a separate report published in Nepali dailies, locals are fear whether the incident can give a negative message to tourists.
The government has been facing severe criticism for not taking appropriate measure to rescue the stranded trekkers and failing to give prior information about the blizzards.
A joint team comprising representatives from the ACAP and the Lodge Management Committee, Manang are deployed at the Thorang Pass area to look into condition of the trekking route.