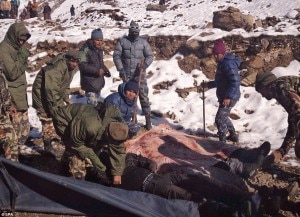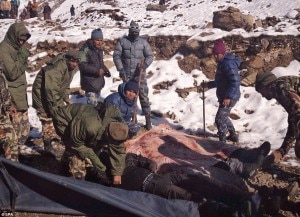 KATHMANDU, Nepal–The government and Trekking Agency Association of Nepal (TAAN) have rescued 455 trekkers including foreign tourists trapped due to snowstorm and in avalanches that took place Tuesday and Wednesday in Manang, Mustang, and Myagdi and Dolpa districts.
Many trekkers returning from the Anapurna circuit and Upper Dolpa remain out of contact.
Six foreigners and nine Nepalese have been rescued from Yamang Pass and Ghok area along the border of Mustang and Dolpa districts, according to District Administration Office, Mustang. Nine more Nepali trekkers are learnt to have missing in the area.
Likewise in Manang district, as many as 251 including 162 Nepalese and 89 foreigners trapped in the glacier and snowy hills have been rescued until Saturday evening, said Chief District Officer Devendra Lamichhane.
CDO Lamichhane told that the rescue operations could not be made effective due to a bad weather condition in the snow covered areas on Saturday while a search for the missing three Nepalese, four Canadians, three Indians and Japanese is underway, he added.
Baburam Bhandari, Chief District Officer in Mustang district said as many as 171 people were rescued from Mustang alone.
In the meanwhile an additional body of a Japanese woman was found on Saturday. Vidhya Hirachan, Executive Member of Trekking Agencies' Association of Nepal (TAAN), said the Japanese woman's body was discovered in the Thorung-La pass area. With this, the death toll from avalanche and snowfall in Nepal Himalayas has reached to 43.
23 tourists rescued from Dolpa
Some 23 tourists including 15 foreigners left stranded due to heavy snowfall in mountainous Dolpa district have been rescued Saturday through a chopper belonging to Fishtail Ai.
The tourists were heading toward Shey Phoksundo, Saldang in the district through Chharka VDC. They were airlifted through a chopper after it became impossible for them to return on foot owing to heavy snowfall.
Meanwhile, Mamthupa Adventures agency has informed that some 47 tourist are returning on foot from upper Dolpa regions.