News
(English) Climate change impact: Human settlement deserted in mountain region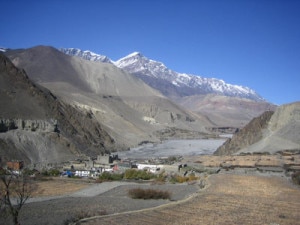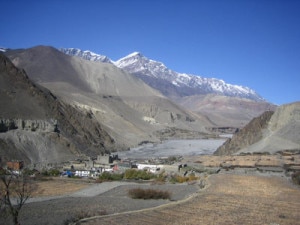 KATHMANDU, Nepal–Inhabitants of two villages in the mountain district of Mustang have vacated their settlements and shifted to lower regions, thanks to the impact of climate change.
With swiftly increasing temperatures in the region, water sources have dried out in Samjung and Ghey villages of the district, forcing people to seek a more habitable place down in the south, according to a report published in Nepali broadsheet daily.
Though a detailed research on global warming and effects of climate change was yet to be conducted in the region, preliminary study showed that climate change is behind the empty of the villages.
Also known as the districts beyond Himalaya, the area also witnessed rainfall instead of snow, which was uncommon in the past.
Due to change in climate pattern, galvanized zinc sheets have replaced the traditional mud-thatched roofs.
According to Ashok Subedi, a conservation officer at Annapurna Conservation Area Project (ACAP), Samjung and Ghey have been totally deserted as sources of fresh water went away leading the migrated villagers to opt for other cities.
Subedi warned that more human settlements in the mountain region could be vacant if such changes continued.
The reports further said that other villages in adjoining Manang have also been witnessing apparent impacts of climate change.
As per the census of 2011, out of combined 19,990 people –13,452 in Mustang and 6,538 in Manang -live in the districts.
These districts have reportedly faced changes in the agricultural practices also.
Apples that earlier ripe  at the altitude of 2000 metres can be now grown in the areas up to 3000 meters including in Chhusang. Likewise, the taste of the fruit in Marpha and adjoining areas, has drastically changed.
Also, the time to harvest crops after their plantation has also changed. While the villages had to wait for nearly a year to harvest a batch of crop, now they get the yields several times a year.
Locals reported that they could extraordinarily cultivate corn up to the altitude of 3700 metres.
Conservation officer Subedi stated that the local weather pattern ranges from extreme drought situations to extreme rainfall. The continued rainfall has increased the risk of flash floods and landslide in the region.
Not only this, the melting snow in the high altitude has led to the formation of glacial lakes that were not in existence till 30 year ago.
The report has it that half a dozen new glacial lakes have been reported in Annapurna Conservation Area (ACA).
Another sign of the changing climate has been the migration wild life to the upper mountains from the lower regions.
Snow leopards have started descending to the lower region from upper mountain while animals that adapted to the changing climate have throng to northern belt.
According to recent government statistics, the temperature in the mountains in Nepal has been on the rise by 0.06 per cent compared to the 0.04 per cent in the southern plain.