News
(English) Are mountain people really ignorant about climate change?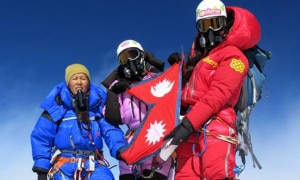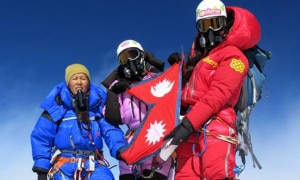 KATHMANDU, Nepal–Experts and stakeholders have long been complaining that climate change have adverse impact on the lives of mountain people. However, people of the mountain community are unaware about the issues due to the lack of knowledge, and education and particularly the interest.
Neither they are aware nor convinced about the climate change that is posing threats to their lives and livelihood.
In an attempt to study the impact of climate change on such lives, three aspirant women climbers who reached on the top of Mt K2, the deadliest peak in the world, have also reached to the conclusion that Himalayan lives has been doomed by the climate change. They have observed the impacts of climate change in the high Himalayan region during their K2 expedition.
Nepali women veterans Pasang Lhamu Sherpa, Maya Sherpa and Dawa Yangzum Sherpa, who also set the record of being the first Nepali women to successfully climb K2 on July 26 witnessed that Himalayan glaciers are melting faster than ever before.
They also noticed significant changes in weather patterns of high Himalayan reign.  During a programme held in the capital Kathmandu, they complained that many people turned their deaf ear towards the reality of climate change.
"In my decade long mountaineering career, I have witnessed noticeable changes in the weather patterns of Himalaya. What I learnt during the period is mountain people are ignorant about climate change", Today's Nagrik national daily quoted Pasang Lhamu, a 30-year-old mountaineer from Solukhumbu district as saying. She also stressed the need to make aware about the changing climate patterns to mountain people.
In fact, the women mountaineer had left for the peak with a drive– to raise awareness about the change and their mission was supported by the International Center for Integrated Mountain Development (ICIMOD).
They have a better experience at the camp-2 of Mount K2 where a rock once covered with snow seemed like just an ordinary rock.
Maya Sherpa, a 35-year-old mountaineer from Okhaldhunga district, said they observed the impacts of climate change in the high Himalayan region during their K2 expedition.
Dawa Sherpa, another member of the team said their conquer over the peak was as similar to winning the Great War.
The women are planning to release a book and video about their observations that they made during arguably the world´s most difficult ascent