News
(English) Flood, landslides mayhem nationwide; 14 killed, dozens missing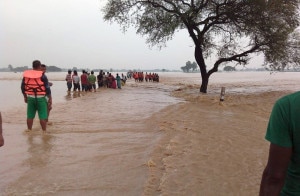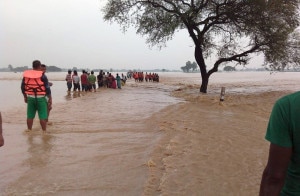 KATHMANDU, Nepal–At least 14 people were killed and a dozen more people injured missing several other due to the floods and landslides triggered by incessant rainfall across the country.
Three persons, including a teenage girl were killed in separate incidents of landslide and flood in Lalitpur on Thursday. A youth was swept away by the swollen stream in Grinchuli, Tinpane Bhanjyang of the district,  some 6 kilometers away from the Capital Kathmandu.
Major bridge on the East-West Highway has been caved in, breaking up the eastern region from the rest of Nepal.
Two persons died and as many others went missing in separate incidents of landslide on Thursday in Jajarkot district. Nabarati Bohara and her eight-year-old son were killed when a landslip buried a house at Sakla-3. Three other family members were seriously hurt. The villagers rescued the injured three hours later.
According to television reports, two persons were buried in a landslide at Chunbang VDC-8 in Rukum district, Thursday evening while five persons were swept away by floods in Morang, Sindhuli and Udayapur districts.
Life out of gear in terai
Life in terai based districts; located in southern Nepal has been thrown out of gear due to incessant rainfall. Half a dozen Municipalities and 7 villages have been submerged, affecting over 1000 houses while communications and transport services have come to halt in several places.
Scores of houses were inundated and transportation service in hilly region was blocked along various sections of the highway due to water-induced disasters nationwide.
A dozen people are reportedly sustained injuries in flood related accidents.
A woman was killed due to the flooding in the Kamala River in Sindhuli district. In Siraha district, the flooded Kamala claimed two more lives.
Similarly, according to FM radio reports, four people went missing in similar incidents in Siraha, Udayapur and Dhanusha districts.
Hundreds of people have been marooned in Dharmapur VDC after the swollen Bagmati River entered their settlement in Rautahat on Thursday.
No respite until Saturday
Incessant rainfall that has been lashing the country since Wednesday is likely to continue even on Saturday, the Meteorological Forecasting Division (MFD) said.
There are chances of heavy rainfall at one or two places in the western, eastern and far-eastern regions.
Security forces on high alert
In the meantime, the government on Friday decided to keep all its security forces on high alert for 24 hours for deployment at places where natural calamity strikes.
Citing the increasing incidents of floods and landslides and bridge collapse, thereby disrupting vehicular movement in different parts of the country, the government decided to take this decision.