News
(English) ICIMOD awards eight research organizations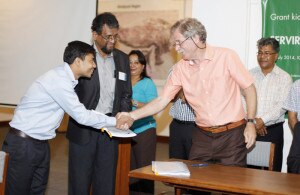 KATHMANDU, Nepal–A two-day workshop organized at the International Centre for Integrated Mountain Development (ICIMOD) for the SERVIR-Himalaya Small Grants Programme has concluded.
 On the occasion, eight research organizations were awarded with small grants through the SERVIR-Himalaya initiative. The workshop also brought together donor officials from SERVIR Global, SERVIR-East Africa, and ICIMOD.
The eight awarded organizations, which were selected from a pool of one hundred and ninety one applicants, are from Nepal, India, Bangladesh, and Pakistan.
On the occasion, Basanta Shrestha, ICIMOD's Director for Strategic Cooperation expressed belief that the Small Grants Programme would help leverage science and technology to address developmental challenges through the use of GIS applications and remote sensing.
During the workshop the participants also discussed their proposed project areas, including disaster and emergency response, ecosystems and biodiversity among others.
"The workshop also provided an opportunity to learn about project implementation procedures including USAID and ICIMOD rules and regulations" a release by ICIMOD stated.
The Small Grants Programme (SGP) calls on regional experts in GIS and remote sensing to enhance networking among universities and institutions to promote the function of Earth observation information in the HKH region.
During the programme, Birendra Bajracharya, technical coordinator for the SERVIR-Himalaya initiative and program manager for Mountain Environment Regional Information System, stressed the need to create an enable environment for the use of science applications.
The SGP is implemented by ICIMOD under the framework of SERVIR-Himalaya, which is funded by the United States Agency for International Development (USAID).
The SERVIR programme is a unique combination of science, technology and development programmes established through a joint partnership between USAID and National Aeronautics and Space Administration (NASA).