News
(English) Sinkholes re-emerged in Armala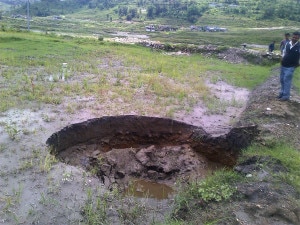 KATHMANDU, Nepal– With an onset of rainy season, the trouble days of the locals at Armala VDC in Pokhara have once started since they are forced to remain vigilance due to the re-occurrence of sinkholes.
It is suspected that the number of the sinkholes restored again after locals started planting paddy, this season.
As many as 13 sinkholes have re-emerged in the area during the last week and the process of forming the new sinkholes has not stopped.
Fearing of the calamity, some villagers have fled the settlements while others have reportedly filled the holes with soil. Seven new sinkholes have been buried so far in Armala.
Natural Disaster Concerned and Construction Support Committee (NDCCSC) informed that more than 200 such sinkholes were appeared across Armala following the first one was reported in November last year.
"I cannot sleep a wink when it starts raining. We have nowhere to go," today's ekantipur quoted Bishnu Bhattarai, a local, as saying. Bhim Bahadur Karki, another local who recently left the settlement after the calamity said he could not stay there anymore as my houses were enclosed by the sinkholes.
According to Armala VDC, the disaster that displaced seven dozens families living other many stranded has put risk more than hundred houses in the settlement.
Some district based geologists believe that a stream was used to run in the area where is now turned to a settlement. In the meantime, the Armala locals have demanded that the government should relocate them to a safer place. A probe committee formed last year concluded that that encroachment and illegal stone and sand mining caused the sinkholes.