News
Swamp deer population increases in Shuklaphanta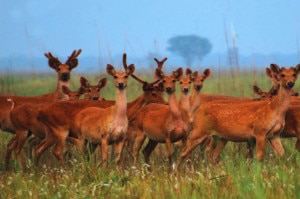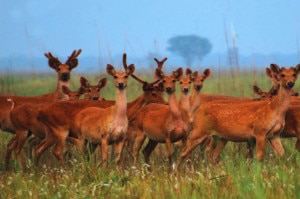 KATHMANDU, Nepal–The number of swamp deer ( Moschus Chrysogaster leucogaster), which is regarded to be an endangered species, has increased in Shuklaphanta Wildlife Reserve (SWR) of Kanchanpur district situated at western province of Nepal.
According to the latest census, a total of 2,301 swamp deer has been spotted in the Shuklaphanta this year. Among them, 777 are male, 1390 female and 134 fawns.
The latest figure indicates that their population has risen by 131 as compared to the last year. The number was 2,170, including 1,280 female, 505 male and 385 fawns in last year.
A team of 28 technical staff from the SWR and the National Trust for Nature Conservation along with five elephants and two jeeps were mobilized for the census.
Appropriate management of habitat and preventive measure against the poaching led to increase of swamp deer in the reserve, according to conservationists.
Officials at the park complained in spite of its decline in poaching in the recent years, their conservation has become a challenge for the reserve due to the human settlements.
The reserve which earned its fame of housing the largest herd of this endangered species in the world recorded highest number in the last six years, according to SWR officials.
The reserve has also earned its fame of housing the largest herd of the swamp deer in the world, has witnessing its whooping numbers each year.
Shuklaphanta Wildlife Reserve covers an area of 305 square kilometers, and additional meadow area of 54 square kilometers, where many of these swamp deer live.
Apart from SWR, Bardiya National Park also houses swamp deer in the country.