News
(English) Spring Everest expeditions uncertain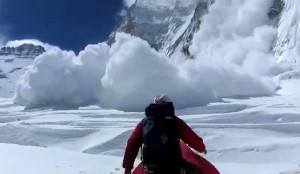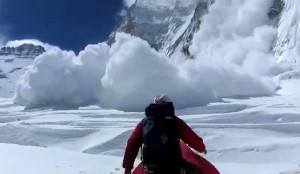 KATHMANDU, Nepal–Climbing in the Mount Everest in this season has become uncertain with worst ever dreadful avalanche in Everest base camp, that killed 13 mountaineers along with three other missing, Friday morning.
Uncertainty loomed after the mourning Sherpas from the Khumbu region, promised to suspend all climbing activities, calling off the ongoing search for their missing fellows.
A joint meeting of guides and support staff, expedition leaders and climbers held at the Everest Base camp  on Sunday warned to call off this season's climbing, issuing a seven-day ultimatum to the government to address their demands. They have been raising their concerns about the issues of social security after dreadful avalanche.
According to Lamakaji Sherpa, General Secretary of the Sagarmatha Pollution Control Committee, the meeting also decided to mark April 18 as 'Black Day' in the Everest history.  Sherpa told that A government official posted at the base camp told to Nepal Mountain Focus that SPCC's icefall doctors had stopped fixing ropes at the avalanche site and majority of the support staff have decided to return to their homes in Khumbu region for a break.
In the meantime, the tourism Ministry has invited all the expedition operators for an emergency meeting Monday after the warning issued by the mountaineering support staff.
Joint Secretary at the Ministry of Tourism And Civil Aviation Madhusudhan Burlakoti said his office will hold talks with the stakeholders adding the Ministry was scrutinizing of the latest development.
According to the Nepal Mountaineering Association (NMA), more than 80 per cent of the mountaineering support staff and the high altitude workers are from Khumbu region. Ten of Friday's disaster victims were from Khumbu.
NMA has arranged a funeral procession of the deceased mountaineers on Monday.  The NMA and Trekking Agencies Association of Nepal have decided to extend Rs 50,000 in financial assistance to families of the deceased and Rs 35,000 each for the injured.
Likewise, the Expedition Operators' Association has announced Rs 25,000 for each of the bereaved families and Rs 15,000 for the injured.
More than 500 climbers from 41 expedition teams have already reached the Everest base camp to acclimatise themselves. Climbing begins in mid-May depending on the weather condition.
Everest Jump cancelled
Meantime, the Discovery Network cancelled a daredevil's planned jump off the summit of Mount Everest in a wing suit scheduled to be televised live on May 11 worldwide for next month, following the worst ever mountaineering disaster on Mt. Everest.
According to international news reports, Network spokeswoman Laurie Goldberg said the thoughts and prayers go out to the Sherpa community of guides who were the victims of the avalanche.
Jumper Joby Ogwyn already was at Everest in advance of the jump, however he was not affected by the avalanche.