News
(English) "37 Expedition team entered Namche despite of adverse weather", Govt official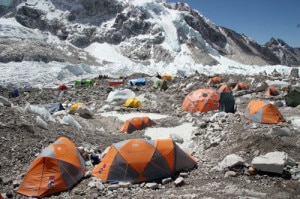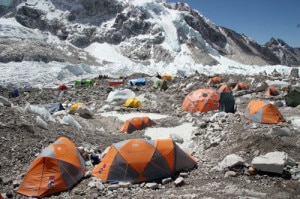 KATHMANDU, Nepal–With the onset of spring season as many as 500 people mostly mountaineers and trekking guides have reached the Base Camp of the Mount Everest till Wednesday morning. "Despite of adverse weather condition, the flow of foreign mountaineers coming to Everest Base Camp is high. All together 37 expedition team have registered their names in Namche's entry point", Krishna Lamsal, Under Secretary at the Ministry of Tourism and Civil Aviation (MoCTCA) told to Nepal Mountain Focus from Namche over  phone.
Lamsal, who heads a team of government officials at the contact office established at Base Camp, said Everest region has been witnessing heavy snowfall for the past couple of days.
"Despite of adverse weather condition, the flow of foreign mountaineers coming to Everest Base Camp is high", Lamsal who descended to Namchefrom Base Camp  this morning due to incessant snowfall told this portal. He further informed that three liaison officers from the ministry and 16 support staff have been providing necessary support to the mountaineers at the base camp.
According to him, mountaineer have begun ascending 5 hundred meter from Base camp and  then descend to Camp, as a part of acclimation before heading to summit to reduce the risks of high altitude sickness.
In the meantime, a medical centre set up at the base camp has received dozens of patients in the last one week, complaining of altitude sickness on daily basis.  Loss of appetite, insomnia, persistent headache, dizziness, nausea, vomiting are some of the symptoms of high altitude sickness.
Likewise, a report published in the today's edition of thehimalayantimes reads that three foreigners have been flown to the Capital Kathmandu for further treatment while five mountaineers, including two Nepalis, have been rushed down to the Feriche area after preliminary treatment.
Himalayan Rescue Association has set up a small medical team running a health centre at the base camp for a week.
All together 85 expedition teams have taken the permission to climb different mountains including Mt. Everest this climbing season, according to the Department of Mountaineering under the Ministry of Culture, Tourism and Civil Aviation.