News
(English) Flocks of mountaineer make way to Everest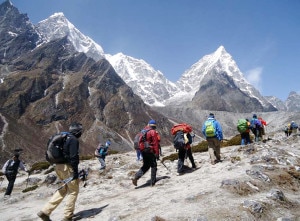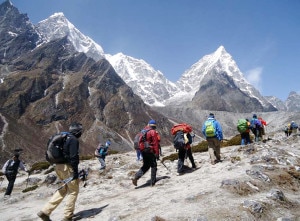 KATHMANDU, Nepal–With the beginning of the mountaineering season, as many as 335 foreign mountaineers from 41 countries have reached the Everest region.
Trekking entrepreneur and operator of Cho Oyu Trekking Agency Nima Nuru Sherpa said a total of 335 foreign climbers have reached the base camp till Sunday morning.
According to him, icefall doctors have already installed ropes up to Camp II. "Icefall doctors have accomplished fixing the ropes up to camp II from South Pole ", Nima Nuru told to Nepal Mountain Focus.
He said that 25 expedition team for Everest, 6 for Mt. Lhotse and 3 for Mt Nuptse have already gathered at Base Camp, waiting for the better weather to make their way towards concerned peaks.
Officials at the Mountaineering Department under the Ministry of Culture, Tourism and Civil Aviation (MoTCA) informed a total of 75 expedition teams so far have taken permit to scale the various peaks in Nepal, this season.
Teams comprising three members to 15 have been issued permit. Among the mountaineers, 13 countries have one member each represented in their expeditions.
According to the Department, mountaineers ranging from 16 year-old Mathew and Willam Mithcell Burkey, 73, from US to female climbers Azer Alyssa Nicole, 18, of Australia to New Zealand climber Deerness Joy Christine will attempt the peaks.
Likewise, five septuagenarians, 13 sexagenarians and three under 20 years have already made their way to Everest Base Camp to scale the peak will attempt the peak. Only, 16 per cent of the mountaineers are female.
Each mountaineer will have to take back eight kilogram of garbage in addition to their own from the roof of the world from this season according to the new provision made by the government. Thus, measuring the number of climbers headed for the peak, at least 2.4 metric tonnes of garbage will be brought back to Base Camp this season.
In the meantime, a contact office comprising of 16 staffers will be stationed at the base camp in the first week of May. Security personnel, ministry officials and support staff have already reached the camp to facilitate the climbers.