News
(English) Mysterious death of leopards: Special team spread to dig out truth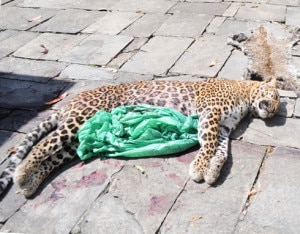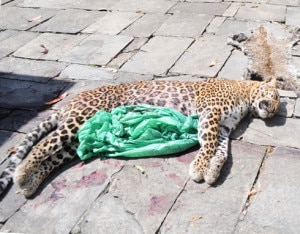 KATHMANDU, Nepal–After the post mortem report of five leopards found dead in Kaski village last week confirmed that they had died due to poisonous meat, the District Forest Office (DFO) has spread a special team to find out who was responsible for big cats' deaths.
Five common leopards died mysteriously within a week in Bhalam and adjoining village in Kaski district.
The leopards' levers were swollen while the tongues had turned blue and eyes seemed white instead of red and poison had spread all over the bodies, according to autopsy report. 
"Five leopards died in just one week. The post mortem report has shown they died due to poisonous meat and District Forest Office has spread a special team to dig out the truth," DFO said.
DFO has vowed to take rigorous action against the guilty after the team find out the truth.
The mysterious death of leopards one after another has points that wild cats are under threat. Villagers were suspected of keeping toxicant in the meat after leopards menace as they had complained the wild cat made prey dozen of livestock after entering human settlement several months ago.
Premilary investigation hinted the leopards had preyed on poisoned chicken. Veterinary doctor involved in autopsy of the leopards said poison had spread all over the bodies of the leopards.
"Their liver had swelled and the eyes which should normally be red had turned white, and the tongue was blue. These are clear signs of poisoning. But we have yet to confirm what poison was that," myrepublica quoted KC as saying. 
As per the National Park and Wildlife Conservation Act, 1973, anyone found guilty of killing endangered species by poisoning faces up to two years jail term and fine of Rs 10,000.