News
(English) Natural diversity of Himalayas suits for musk deer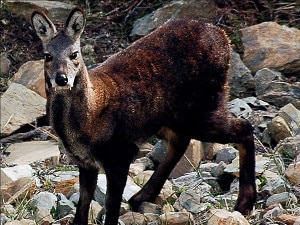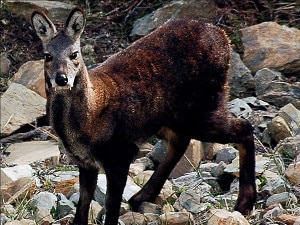 KATHMANDU, Nepal– A survey carried out on the habitat of musk deer (Moschus moschiferus) locally known as 'Kasturi Mriga', in the mountainous areas of Gorkha district has revealed the natural diversity of the Himalayas area absolutely suited for this endangered animal.
The comprehensive survey carried out, of late, by a team of Manaslu Conservation Area (MCA) also disclosed the pleasant facts that the population of musk deer was found to have increased over the years.
According to the Office of Manaslu Conservation Area, the team applied electronic devices and visual skill to identify the actual data of Musk deer and their current activities in the various places of northern Gorkha.
The survey was carried out by analyzing Musk deer's breathing spots, fur samples, foot prints and the direction of the footprints.
Musk deer, which is steadily vanishing across the nation, falls under one of six commonly found deer species in Nepal.
During the survey, the team documented a total of 44 musk deer, among them eight were male, 16 female and 4 were babies. The gender of 16 others is yet to be determined. Most of the deer were sighted at Chhaikampar, Prok, Samagaun and Lho VDCs of the district.
"It´s no surprise that musk deer are increasing rapidly in the Himalayan region of the district. The climatic conditions and rich bio-diversity of the area are perfectly suited for musk deer," myrepublica quoted one of the team members, Hira KC as saying.
Survey was also focused on studying the climatic condition of the area and how the animals are adapting to it apart from conducting a count.
According to Ram Kumar Gurung, chief of Manaslu Area Conservation Project, the counting brought impressive results which also showed the development of musk deer population.
This endangered animal mainly found in the mountain reaching above 3,000 meters in Nepal.
So far, Nepal is home for three different species of the musk deer—golden-necked, white-necked and black musk deer.
Musk deer which belongs to the Moschidae family is also found in Kanchenjunga Conservation Area, Annapurna Conservation Areas as well as Sagarmatha, Langtang, Shey Phoksundo, Rara, Khaptad and Makalu Barun national parks, besides the MCA area, in Nepal.
As per the statistics of the Department of National Parks and Wildlife Conservation, around 3,000 musk deer are found in Nepal.
In Asia, it is also found in Afghanistan, Bhutan, China, India, Myanmar and Pakistan.