News
(English) Malaysian Airlines aircraft escapes great disaster in TIA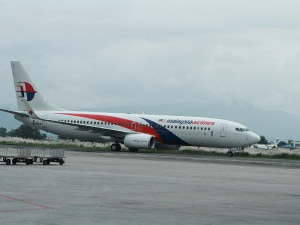 KATHMANDU, Nepal–At a time the international search goes on for the missing Malaysia Airlines aircraft (MH–370), another aircraft belonging to same airline escaped disaster while landing at the Tribhuvan International Airport (TIA) Friday night.
The MH– 114 on a schedule flight from Kuala Lumpur with 180 passengers on board to Kathmandu encountered a flock of ducks subsequently once it landed at Tribhuvan International Airport, shattering its two right windshields, airport authorities informed Saturday.
The incident took place at 10:45pm. There were no reports of injuries.  Airport source said the incident came to light after a pilot of Jet Airways informed TIA officials of sighting pieces of glass on the runway, according to kantipur reports.
Immediately after a brief inspection, TIA officials found at least 12 dead ducks along with pieces of glass on the runway. The debris was cleared and airport resumed its normal operations after half an hour. TIA officials said it is the first time that they have seen so many ducks in the airport area.
Some officials said that they could be migrating ducks from Taudaha.
The airline put off a return flight to Kuala Lumpur that was scheduled at 11:00pm on same night. The plane took off for the Kuala Lumper at 3:30pm on Saturday after brief repairs.
Meanwhile, the ATC officials have reportedly recommended action against the Malaysia Airlines pilots for failing to report the incident in time. "The pilots should have informed the airport authority immediately to prevent any untoward incident," kantipur quoted TIA official as saying.
More than 75 bird strike incidents have been reported during take-off or landing at the TIA since 1990. Three of them resulted in major damage to aircraft.  All 19 people on board were killed when Sita Air Dornier crashed after a bird hit it minutes after the plane took off TIA in September 2012.