News
(English) Profiles of himalayas above 6000 m to be maintained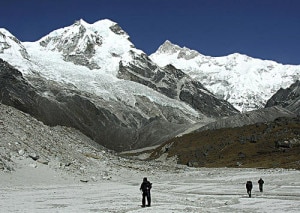 KATHMANDU, Nepal – The government has taken an initiation to prepare a detail profile of the mountains in the country that are opened for climbing. The mountain profile will comprise of various useful details for climbers and trekkers about height of mountains, maps, pictures of guiding directions, trekking routes, base camps and people and culture of the region. Once the mountain profile is prepared, new mountains will be added to the list along with revisions in mountaineering royalty and attractive propositions for trekkers and climbers.                  
The government initiation has come in response to the views that government apathy to maintain detail profiles of all the peaks opened for climbing is the reason behind few mountaineering activities in the country. Mountaineering experts are long being saying that lack of proper information and detail profile of the mountains have failed to lure more mountaineers in all peaks. Altogether 326 peaks above 6000 meters are opened for climbing, however, only 57 of them were climbed last year.
"Mountaineers gather around a limited number of peaks as profiles of many peaks have not been created. Also, lack of access roads to base camps and inability to launch campaigns to promote these peaks are other impediments," they said.
As per the recent data compiled by the Tourism Industry Division under the Ministry of Culture, Tourism and Civil Aviation only 298 expedition teams took government permission to scale various peaks across Nepal last year, as against 310 recorded in 2012.
A recent report prepared by the ministry also warns that Nepal may lose foreign climbers to other neighbouring countries if the country continues to show indifference in promoting them, as countries like China, India and Pakistan have launched aggressive campaigns to increase flow of mountaineers.
In the backdrop of all such beliefs the government has been working to formulate portfolio of each peaks with their details.  The government has also recommended several agencies to proclaim the restricted Himalayan regions, which had been forbidden to trek for various reasons.
For making the inventory, a 11 member Mountain Profile Preparation Committee has recently been formed by the government with the head of Tourism Industry Division as its head. The committee formed with representatives from various associated organizations including Nepal Tourism Board, Nepal Mountaineering Association, and Trekking Agencies' Association of Nepal (TAAN) has started the task of preparing the profile.
Meanwhile, the government has recommended the Ministry of Home Affairs to allow permit to the restricted regions ranging from Kanchenjunga to Humla for climbers/trekkers that borders to the autonomous Tibet of China. A source at the ministry informed that, the government is looking forward to permit access to nine other restricted regions including upper and lower Dolpa, Manaslu region of Gorkha and Chum Valley. These regions are neighboring to Tibet.
Also the government has recommended to permit entrance to some restricted regions of Mustang. The regions were restricted then due to consequences of Khampa Revolution in 1956. While the Chinese side had already opened the areas for tourism activities, Nepal has still imposed ban for foreigners there.