News
Project to minimize risk of Imja lake burst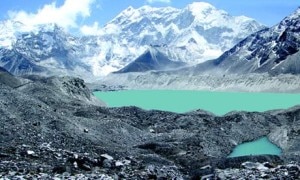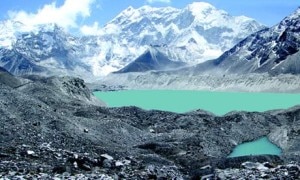 KATHMANDU, Nepal – The government in association with the United Nations Development Programme (UNDP) is working to launch a project that would minimize possible risks to be caused by Imja Lake burst. If the project gets its pace, the locals of Solukhumbu who are living in terror of possible lake burst will get some relief.
The community based project to minimize flood and glacial lake burst disasters has targeted to decrease risk by minimizing the water level in the lake and production of electricity from the lake water.
To lessen the risk, the project has planned to bring down the lake water level by at least 3 meters.  The project that aims to complete the risk reduction tasks by 2017, will work to reduce human and physical disaster, reports Kantipur daily in its Sunday edition.
The lake that lies 6 kilometers southeast of Everest region was a thick snow plank until 1950.  But the global warming the snow started melting giving it a shape of the Imja lake after 1950. According to the research studies, area of the lake has been increased in the short time period alarming a danger. Studies say that the area of lake that was only 0.03 sq. km. in between 1956 to 1963 had gone up to 0.75 sq. km. in 1999. The area was measured 1.01 Sq. Km. in 2009.  With the increasing area and possible threat people living nearby the lake have already evacuated the place.
The project has planned to pump the water out of the lake and to produce about 15 hundred megawatt electricity from that. The proposed plan also includes a footpath and a new track in the lake area. Likewise, to bring 30 thousand tourists each year to enhance income source of the local people through tourism is also in the plan.
With the adverse effect of climate change and global warming more snow are melting from the mountains rising the threat of glacial lake burst. According to a ICIMOD report, apart from Imja, Tsho-Rolpa, Barun, Lumding including 10 glacial lakes are at high risk of eruption.  The government has already launched programmes to minimize disasters and public awareness regarding the glacial lakes and its risks at Cho-Rolpa.