News
Former 'living goddess' receive monthly allowance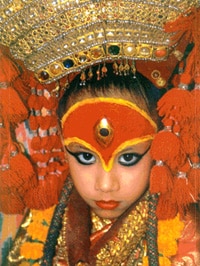 KATHMANDU, Nepal–Former Kumaris, worshiped as living goddesses in a centuries-old tradition, have now a reason to jolly up since a couple of days. Their happiness knew no bound as ten former Kumaris will receive the monthly allowance of 10,000 Nepalese rupees from July for the next 10 years, thanks to the decision of the Kathmandu Metropolitan City (KMC) office, though the announcement was a bit late.
For the capacity building of Kumaris and to help them readjust to normal life, the KMC has allocated a budget for them with the start of fiscal year 2014-15. The 23rd town council meeting of KMC held recently revealed a budget of Rs 3.14 billion for the purpose.
However, the allowance would be only offered to the retired Kumaris for a period of ten years from the day of their retirement and it is hoped that they would be adjusted to society and able to cope with the financial situation thenceforth.
According to the executive officer of the KMC Laxman Aryal, the time frame of ten years period was set for the pension with the general assumption that the retired Kumaris would be able to find jobs after that time period.
With the decision, most of the retired Kumaris, seemed glad and hope that the office will increase the amount with time.
The living goddess lives in a palace-temple in ancient Kathmandu's Durbar Square. They are now taught inside the palace where they live in since 2008 as Supreme Court decreed the living goddess should be provide formal education.
Most of the time, they live in isolation in a small palace and emerge only on feast days wearing ceremonial dress, and paraded through Kathmandu to be worshipped.
According to priests to become a Kumari, a girl must have a number of specific physical characteristics such as free from physical and moral spot, a chest like a lion and thighs like a deer among other features.