News
Pollution, urbanization hampering public heath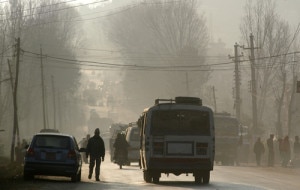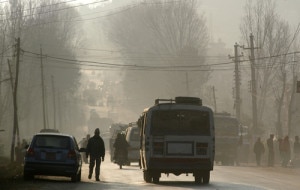 KATHMANDU, Nepal–Air pollution level in the valley has been worsening  each day due to countless vehicles, random road expansion, smokes emitting from large brick kilns, garbage fire, dust particles and black carbon, among others though the concerned stake holder  and government agencies claimed of adopting  precaution measures to lessen its impact as far as possible.
No need to mention that people are suffering from pollution related disease like upper/lower respiratory tract infection, Chronic Obstructive Pulmonary Disease  (COPD), asthma, throat cancer, pulmonary disease, low birth weight due to uncontrolled pollution which is taking thousand of toll annually across the country.
Government's latest drive to expand the road of the valley has also fuelling the problem as those widen streets yet to black top are most of the time blanket with the brown smokes of dust causing difficulty for the passerby who seem to cover their face with mask all through the day.
'Though the government accomplished a good job by widening the roads of congested Kathmandu since few years back, it upshot can easily be seen in the environment sectors since the latter is being degraded day-to-day', officials at the Ministry frequently complain.
Evaluating the increased pollution and its affect on the valley dwellers as well as precautionary approaches that people should adopt in future, the International Centre for Integrated Mountain Development organized a public interaction on 'Air Pollution in the Kathmandu Valley: Issues and Challenges' in the Capital on Wednesday.
On the occasion, experts illustrated the gloomy picture of air pollution in the Kathmandu valley as well as the fastest urbanization in the city triggered by increased population. They opined that transport sector was the major contributor to air pollution in Kathmandu.
Speaking on the programme, Arnico Panday, Lead Atmospheric Scientist of ICIMOD appealed all to adopt environment-friendly behaviour.
Experts have frequently warning that pollution level in Kathmandu is higher in the morning and evening in compared to other times of the day. According to them, sodium chloride sulphate, nitrates, ammonia, carbon, mineral dust and water particulate matters which are the major factors of PM, affects more people than any other pollutants.
According to WHO standards, the level of Particulate Matter10 (PM10) should be 20 microgramme per cubic metre (µg/m3) for the clean environment at any place.
However, the Ministry of Environment has recorded at up to 699 µg/m3 national ambient air quality standards in Kathmandu few months back. The study also shows that Putalisadk, considered as the heart of dense populated Kathmandu is the most polluted area while Machchhegaun is the least one.
Health specialists have also said that significant number of Chronic Obstructive Pulmonary Disease (COPD) patients have increased significantly in the recent years caused by the pollutant environment.