News
Parties submit PR lists with all dissatisfaction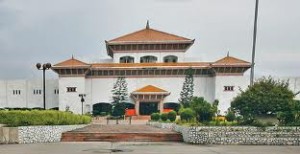 KATHMANDU, Nepal – Even though the political parties finalized lists for the Proportional Representation (PR) system for the new Constituent Assembly, none of them were welcomed without criticism from the party cadres, themselves.
Twenty-eight political parties, including the largest Nepali Congress (NC) and the third largest UCPN (Maoist) submitted their list of candidates under the PR as the Election Commission (EC)'s third extended deadline ended on Monday.
The submission of lists followed disputes and serious resentments within all political parties over the handing out of the PR seats. Leaders who did not figure in the final lists alleged their senior leaders of corruption, nepotism and favouritism.
Rastriya Prajatantra Party Nepal, the pro-monarchist party that emerged as the fourth largest party in the CA securing 24 seats split over name list. 20 among the 42 central committee members of the party have approached the EC for registration of new party.
The scenario is also the same in other parties. While leaders of the Nepali Congress have uttered their dissatisfaction as the party leadership distributes seats on percentage, cadres and leaders of CPN-UML have expressed their dissatisfaction on the social media sites. They have blamed the leadership of valuating money above contribution and sacrifice of party cadres.
Leaders close to Dr Baburam Bhattarai and Narayan Kaji Shrestha have boycotted the meeting of the Unified CPN (Maoist) called to select names after the party chairman Pushpa Kamal Dahal 'forces them to choose names of his favour'.
Despite extension of list submission deadline for third time, Madhesi Janadhikar Forum-Nepal and Federal Socialist Party Nepal did not submit their PR lists on Monday citing lack of time for homework.
Officials at the EC said they will endorse the names after verifying the parties' compliance with the provision of inclusion set in the Interim Constitution and the election law. Any party found to have breached the election law will have three more days to make corrections to their lists.
According to the existing provision, the first meeting of the CA should be called within 21 days of the PR results. Soon afterwards the Cabinet constituted through the CA should nominate the remaining 26 seats to give full shape to the 601-member CA.