News
US boy, 9, atop Argentina's highest peak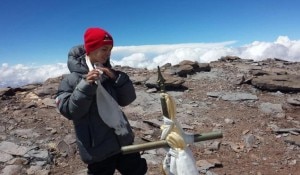 KATHMANDU, Nepal– A 9-year-old boy from Unites States of America has become the youngest person to atop Argentina's Aconcagua mountain, the tallest peak in the western and southern hemispheres.
Tyler Armstrong of Yorba Linda, California scaled the 6962 metres peak on Christmas Eve with his father Kevin and a Tibetan Sherpa, Lhawang Dhondup, who has climbed Mt. Everest several times, international news agencies stated.
'You can really see the world's atmosphere up there. All the clouds are under you, and it's really cold,' Tyler was quoted by AP as saying adding, ' It doesn't look anything like a kid's drawing of a mountain.'
Tyler, who showed keen desire for the expedition though many people thought the parents forcefully compelled 'Tyler to do job', took training for nearly six months before making attempt to scale the peak
According to Nicolas Garcia who supplied materials for the team, roughly 30 percent of 7000 people acquiring permit conquer Aconcagua annually and the boy has also performed his unwavering courage.
Tyler's parents had to persuade an Argentine judge before the boy safely accomplish the feat as people below 14 are usually prohibited to scale peaks. The judge had nodded the boy after the team persuaded the former that their campaign was for noble cause i.e to raise fund for muscular dystrophy research.
In Tyler's view any kid can truly accomplish the feat if he or she makes an attempt 'and set their mind to the goal'. Tyler's father is an emergency medical technician while mother is a pediatric neuropsychologist.
"Most people think we as parents are pushing Tyler to do this, when it's completely the opposite," he said
………………………..
In their case, they took the "Polish Glacier" route, which doesn't require climbing, and roped themselves together only when crossing steep ice-covered slopes.
"Any kid can really do this, all they have to do is try. And set their mind to the goal," said Tyler, who worked out twice a day for a year and a half to prepare for the climb.
He also held fundraisers, not only to defray the cost but to raise money for CureDuchenne, which funds muscular dystrophy research.
"I think Tyler's record speaks for itself and because I think he's doing it for a good cause, he's doing it to help other people, I think the judge recognised that," said his father,
an.
Tyler's father is an emergency medical technician while father is a pediatric neuropsychologist.
, and they also have another son, Tyler's younger brother Dylan.