News
Cold wave taking toll nationwide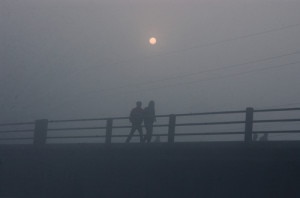 KATHMANDU, Nepal – A sharp dip in the mercury along with cold wave has crippled general life across the country. While the chilly cold taking toll in the Hilly and Terai regions, life has been disrupted badly due to snowfall in the mountainous districts.
News reports from districts revealed that the winter season has been a curse of sorts, especially for the poor, the elderly and the kids. Since the weather turned harsh, hospitals in most of the Terai districts have been full of patients suffering from cold-related diseases.
While the dense fog has hindered flights in many districts, people hit hard due to lack of sun shine for many days. Due to dense fog and windy weather condition nearly four dozen flights were delayed and cancelled on Wednesday and Thursday across the nation. According to the Tribhuvan International Airport more than five dozen flights were cancelled to and from Kathmandu and almost all flights were delayed for more than an hour.
The thick fog has even affected traffic as the highways are covered with fog.
According to the Meteorological Forecast Division, though the winter is almost same in Nepal with snowfall in the mountainous regions and fog in the Hilly and Terai region, the increased rate of air pollution has further blocked the sun to reach earth in winter. The division has forecasted further cold in the future days as the country has not witnessed rain so far.
Likewise, most of the flights to and from Tenzing Hillary Airport in Lukla and TIA in Kathmandu were cancelled as ground visibility in Lukla airport was deteriorating. Normally flights are operated when ground visibility is 5,000 metres at most airports, though the planes can take off and land during 2,500-metre visibility by applying special visual flight rules.