News
Tourists' attraction escalated towards rock climbing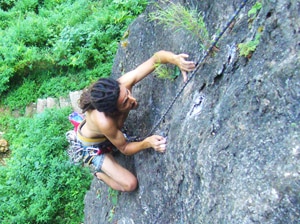 KATHMANDU, Nepal–Chunpaharo located at Bandipur-6 of Tanahun district, roughly 150 west of the capital Kathmandu, has proven a  centre of attraction for domestic and foreign tourists for rock climbing and sports tourism in the recent days.
With Sidda Cave Development Committee running rock climbing matches in the site since 7 years back, flocks of foreign tourists are reportedly travelling all through the months there to demonstrate their courage and fell the beauty of nature through their own sense.
According to Lal Kumar Shrestha, committee founder chairperson, all together 16 climbing routes are in operation and preparations are afoot to add five additional routes on the 55-metre-high rock mountain.
Encouraged with the climbing game and in his bid to lure more foreigners there, a local Sunar Gurung is learnt to have bear the total cost of five more routes through Nepal Mountaineering Association (NMA).
Five thousands domestic and foreign tourists have so far experienced rock climbing with thrill except demonstrating their unwavering courage, challenging the existing risks there. The rock climbing game has been playing a crucial role to promote the country's local tourism in international arena.
Rock climbing has become increasing popular among the tourists visiting Nepal as well as local fanciers as it is an adventurous game to climb up a steeply rock mountain with the aid of rope.
A person with strong determination and courage can only enjoy or face the risks of rock climbing.